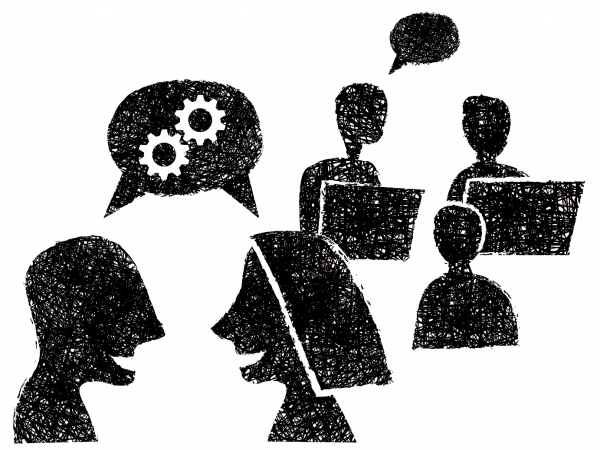 The office, a place to collaborate
Expert
Tomorrow, with the deployment of teleworking, we will go to the office to socialize and collaborate in a living space. This forecast, which has been coming back regularly since the 1990s, will result in a major upheaval in the design of work environments: the area allocated to individual work will be drastically reduced in favor of collaborative spaces. But collaborative for whom and to do what?
Before the health crisis, the positions assigned occupied 60 to 70% of the total surface of a standard workspace, the rest was allocated to collaborative spaces. In the most innovative projects, in activity-based working for example, the ratio between the two types of spaces could reach 50/50. To take into account the expected growth of teleworking, some now advocate further increasing the proportion of collaborative spaces (up to 70% of the total). To do this, the surface area allocated to meeting rooms of all types (formal, creative, brainstorming, etc.) will be increased, but the method of accounting for certain work positions will be modified: as soon as a workstation can be used for a collaborative activity, it will be counted as such (so, for example, seats at large shared tables will fall into the collaborative category).
This development, made possible by the non-allocation of workstations and by increased flexibility of space, marks a departure from the trends observed until then. Indeed, according to the Actineo 2019 barometer, 66% of employees work in closed offices (individual or with several occupants) with a distribution of areas 70 individual / 30 collaborative; 20% are in open space, with a 60/40 split; and 14% of employees occupy flexible spaces with a 50/50 ratio.
As shown in the sketch below, since its first edition in 2011, the Actineo Barometer shows a steady growth in the proportion of employees working in open spaces and without assigned positions, and a symmetrical decrease in the number of employees working in closed spaces. , collective or individual. The collaborative office is therefore a major trend. It will be interesting to observe its evolution (acceleration or deceleration) in the years to come.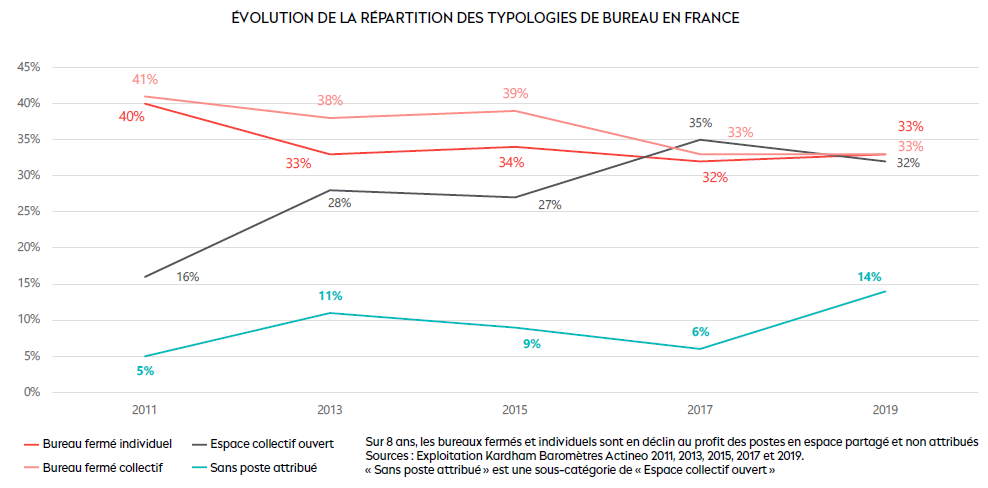 Before questioning the validity of the assertion: "The office of tomorrow will be the place of collaboration and socialization" and the resulting spatial projections, let us return to the arguments that support it. Most of them come from studies that assess, usually by questionnaire, the performance of different activities in the office and at home.
Leesman, for example, compares 21 activities performed in the office and at home. Only 6 of them get a better score in the office than at home: learning from others, interacting informally, working creatively in a team, displaying documents, using specialized equipment or materials, receiving visitors or customers . Analysis of the nature of these activities leads to the conclusion that the office is more conducive to exchanges.
A study carried out by the Kardham R&D team evaluating remote work on 61 different criteria, reveals that 2 of them have a particularly alarming development: the time spent in meetings (which is growing considerably) and transversal exchanges ( which are becoming less frequent). Further analysis also shows an increase of around 10% in the quality of intra and inter-team collaboration when there is a partial return to the office.
The office is therefore, without question, a place that promotes discussion. But, for all that, should the typology of its spaces be drastically changed? Should collaborative spaces take the lion's share? In issue 59 of this review, we presented the results of a study of the influence of remote work on the evolution of working methods (2,000 respondents to the same questionnaire before and after the health crisis). We have shown that it is strongest among employees whose work is predominantly individual, who then spend around 20 points more of their time in exchange.
On the other hand, those with more collaborative activities have not seen a significant change in the way they work. In a business, this category generally represents between 25% and 40% of employees and the type of space they need will only change marginally with the rise of remote working. Before the crisis they used to go from meeting to meeting (half of 4 people or less), they will continue to do so afterwards. With teleworking, the use of small meeting spaces could increase as large meetings will now be done remotely or in a hybrid fashion; to maintain both flexibility and ease of use, all rooms should also be equipped with the equipment essential for remote exchanges. This development will obviously be less noticeable in networked sites where remote interactions were already commonplace.
For this type of activity, it will therefore essentially be a matter of resizing the necessary spaces based on a reduced attendance rate, taking into account a more intensive practice of teleworking. Predicting this new rate can nevertheless be tricky. Indeed, various studies show that collaborative profiles are those who most want to return to the office: either because they believe that this work environment best meets their needs; or because it is managers who have to lead their teams (initial observations indicate that a certain number of them feel they need to be more present on site). Finally, the most nomadic populations could be called upon to move less frequently and therefore to be more present either at the office or at home.
Remote work could therefore only marginally affect the needs of this category of employees, with developments in both directions compensating for each other. What about those whose work is more individual? Will they collaborate more when in the office? Among those who work mainly alone are, first of all, those who work in an "integrated" way and who can represent 30 to 45% of the collaborators of a site. They do, however, need to be next to each other to synchronize and share their experiences; they often work in project mode. These are, for example, software developers, marketing product managers, auditors or researchers. We must also add to them the collaborators who have a support role (such as the administrative follow-up of projects or cases) who must be able to capture information during the discussions. They are generally less autonomous and have more varied interlocutors during shorter exchanges throughout the day.
These integrated profiles are among those who feel they spend more time interacting with remote work. But will they spend more time collaborating or meeting when in the office? Before teleworking for everyone, these profiles often attended only a few meetings, 1 team meeting and 1 or 2 project meetings per week, for example. These meetings are likely to be preferably held during office days, which increases the time spent in meetings while in the office by around two-thirds (in the case of two days a week teleworking). However, the nature of the meetings must be taken into account to validate this hypothesis: experience feedback shows that a top-down information meeting with many participants can be more effective remotely than face-to-face.

Where and how will the rest of the work be done in the office? If they need to be close to each other (especially to be in the same area of eye contact), that's because it significantly increases the possibilities for discussion. These interactions help build a climate of trust that promotes the proper articulation of individual contributions and the sharing of knowledge and, ultimately, contributes to the performance of the group. In other words, for these profiles, the real challenge of returning to the office is to cultivate mutual knowledge. They will therefore come back to the office to get to know each other by spending time together rather than collaborating. It is therefore likely that they will seek to find themselves in a shared space that they will try to appropriate in some way.
Finally come those who carry out tasks rather alone and by following processes (between 25% and 35% of employees). They tend to be the ones who are least inclined to return to the office. They are generally points of reference, people to contact in case of need: the HR department, the pay department, etc. Thanks to the distance imposed by teleworking, they often better organize their work and their relationships with others. For them too, the challenge is to maintain the unity of their group, in particular to distribute the workload and harmonize practices. Their meetings are therefore rather regular. Upon their return, it is likely that they will resume their rituals and that remote working will have a fairly low impact on their activities.
As in the case of collaborative profiles, the challenge for these last two groups marked by individual work will be to size their needs in work positions. If, before the crisis, teleworking was practiced less than one day a week, that it could be increased to two or three and, finally, if their attendance rate only rarely exceeds 70% in peak, we can estimate that this peak could drop 20 points.
In view of the operating methods described above, the main challenge for the office will be to generate meetings between employees. For this, we have known for decades that a certain density of space occupation is necessary. The real inflection generated by the deployment of teleworking will therefore rather be to make the debate on optimizing the use of surfaces acceptable. Then, it will be necessary to change the typology of spaces to take into account the needs associated with the expected growth of time spent in collaborative activities, both in team spaces and in closed spaces.
To learn more about the impact of proximity and the development of interpersonal relationships: Elena Rocco, Trust Breaks Down in Electronic Contexts but Can Be Repaired by Some Initial Face-to-Face Contact, 1998; or see the works of Thomas Allen
Release date : Jeudi 1 Juillet 2021