Sodexo - Madrid
New headquarters
Sodexo is a global company dedicated to quality of life services. Founded in 1966 in France, it operates in more than 60 countries and employs over 420,000 people. It offers services in areas such as catering and food management, facilities maintenance and event management.
Voir les informations techniques
For the construction of its offices, the client wanted to achieve a modern and flexible workspace, with open and multipurpose spaces, and the inclusion of a work-café as a showcase for the restaurant and catering services offered by the company.
In the design, priority was given to articulate the work spaces around open spaces for collaborative work, stay and team building.
The central area, which we called "Plaza", was designed as a meeting point for workers. For this purpose, we used a lighting design and warm materials in the furniture, floors and walls, combined with plant elements with great prominence in the final aesthetics. We also opted for an open ceiling with visible installations, to give the space a greater scale and visual openness.
For the work areas of the offices, we have followed a modern and functional aesthetic, introducing colors and differential details in phonebooths, collaborative rooms, informal furniture...
For the work café, we chose to follow an industrial aesthetic, introducing materials that differentiate it from the work areas, such as concrete and black metal, and leaving the installations of the ceiling of the space in view.
2022-2023 (4 months)
Works
Furniture (reuse + new)
User needs analysis
Pre-design / design optimization
Cost control
Design
Engineering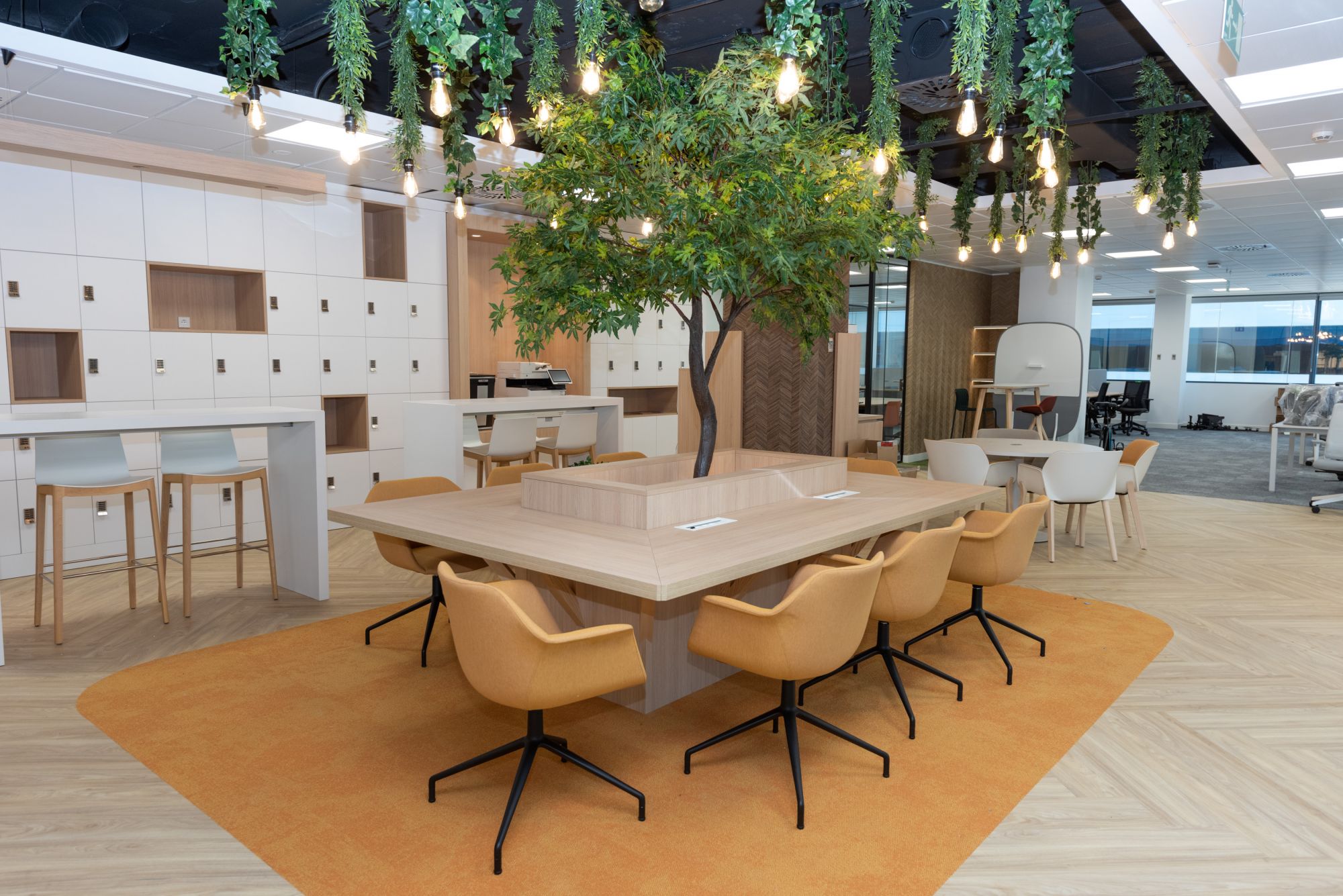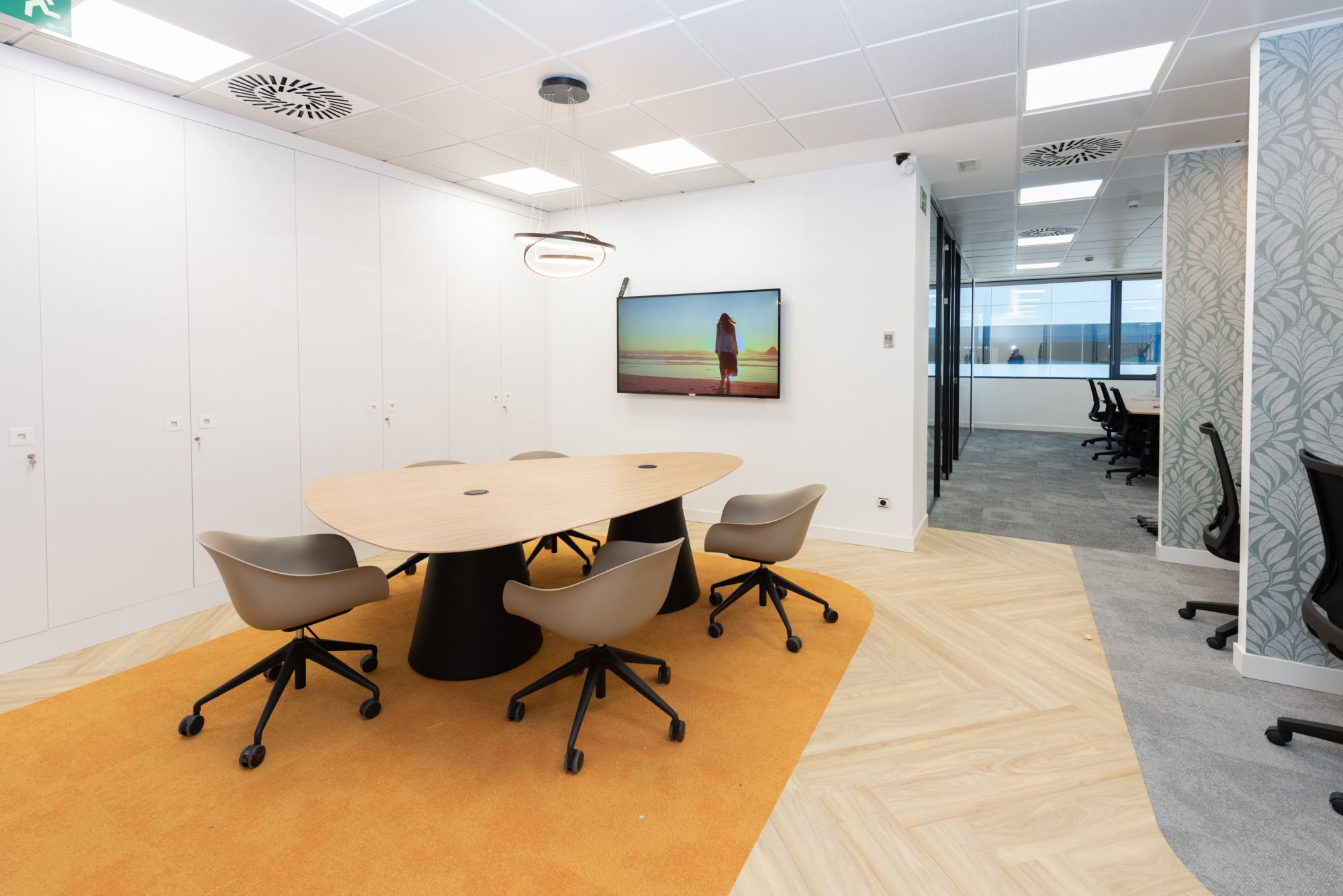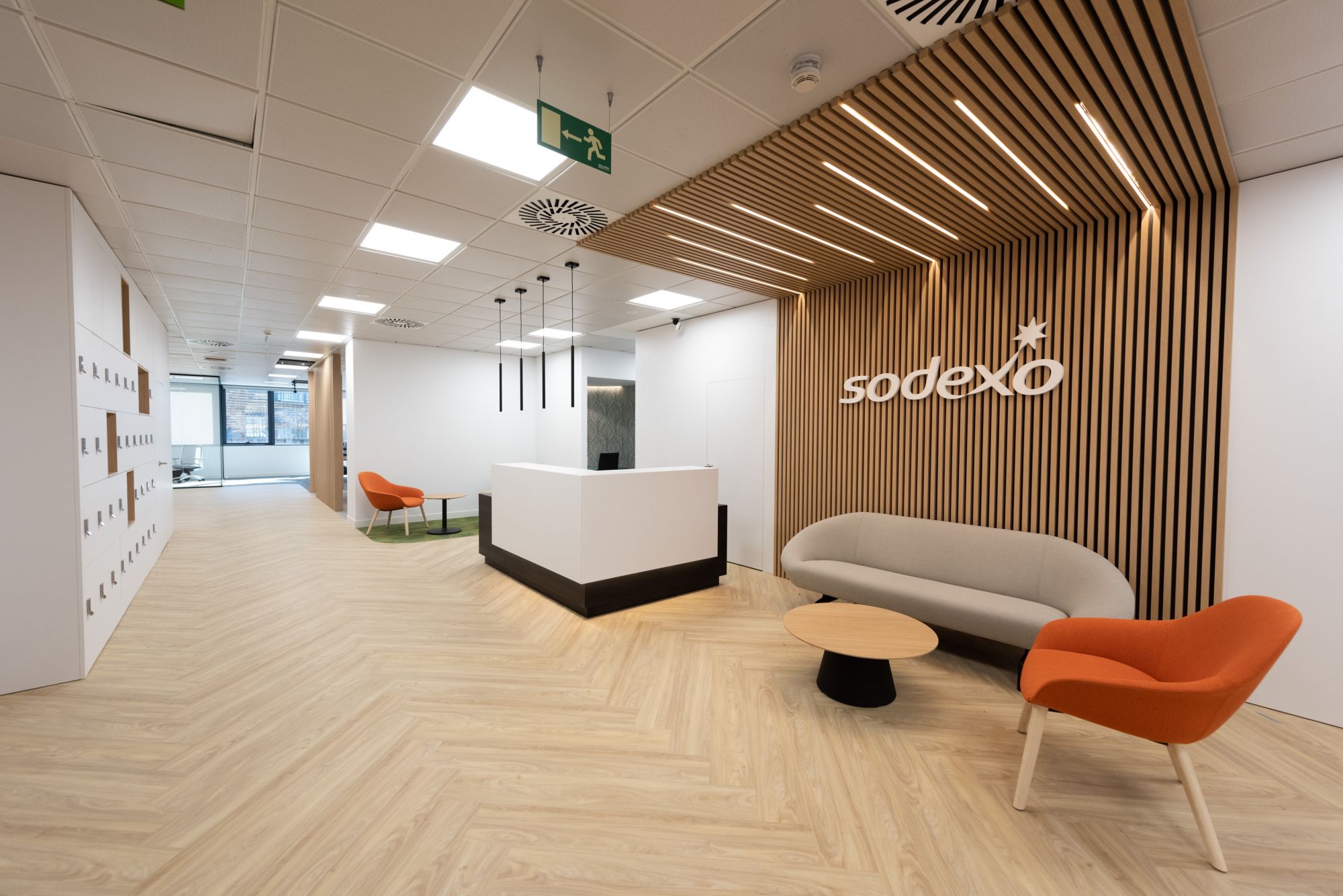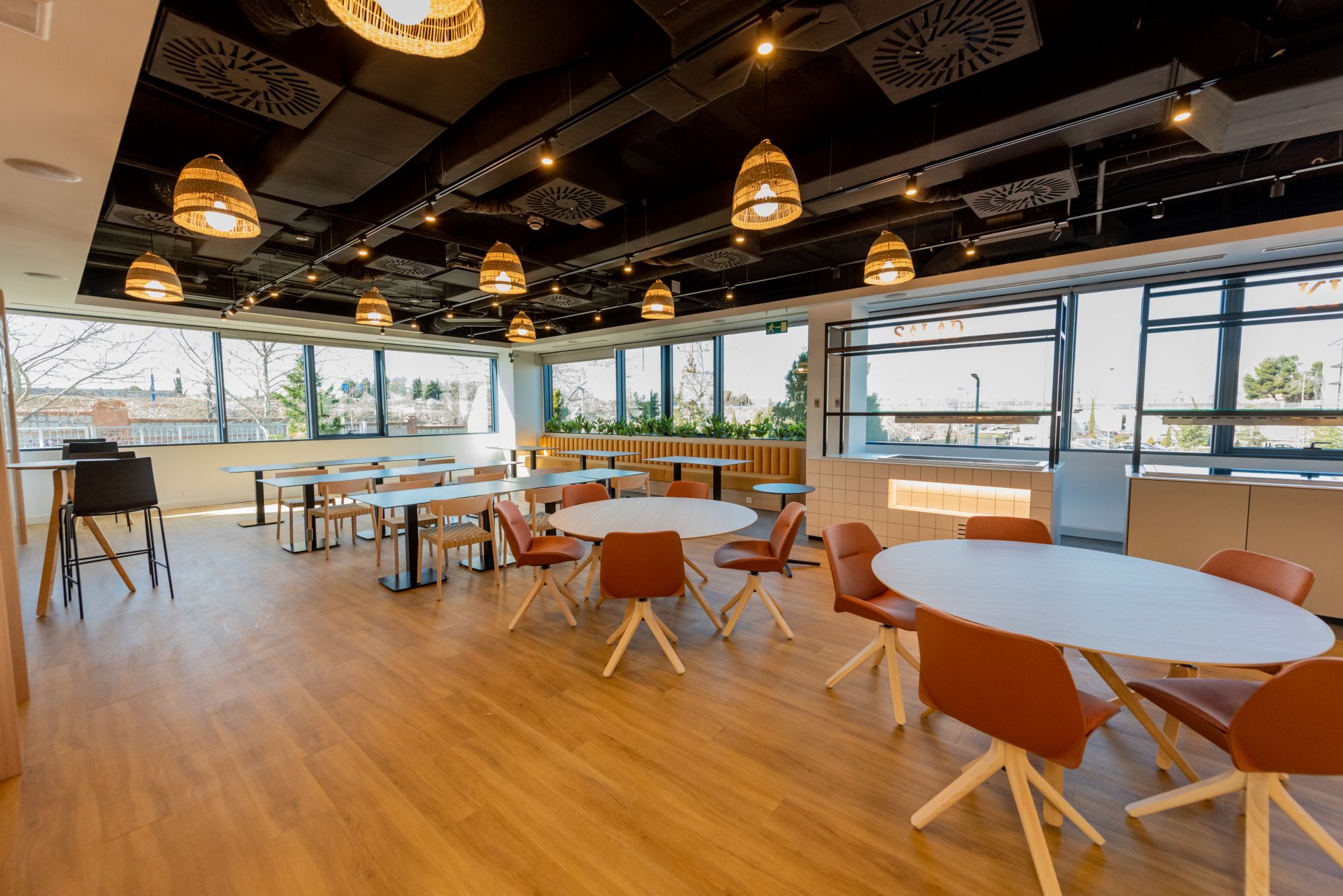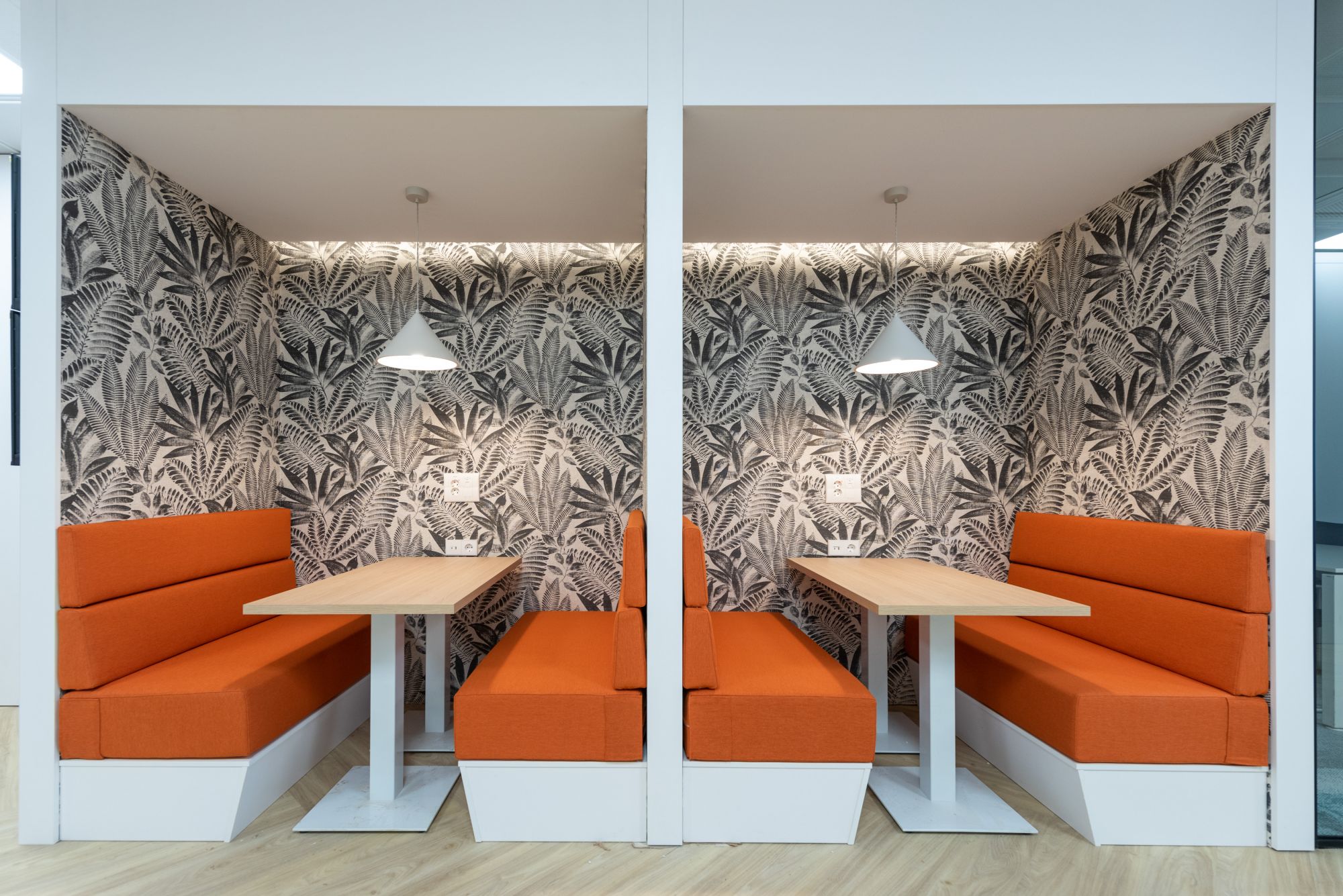 Informations techniques
| | |
| --- | --- |
| Surface of 900 m² | |
| 71 permanent + 24 flexible positions | |
| 12 meeting rooms | |
| More than 500 employees | |
| 8 Phonebooths | |
| Dining room with kitchen of 110 m² + open meeting and coffee area | |
| 17 m² agile and training room | |
| The square, a space for meetings, relaxation, coffee, etc. of 88 m² | |