Kardham Digital, Planon and Schneider Electric join forces to create the first integrated Smart Building and Smart Workplace offering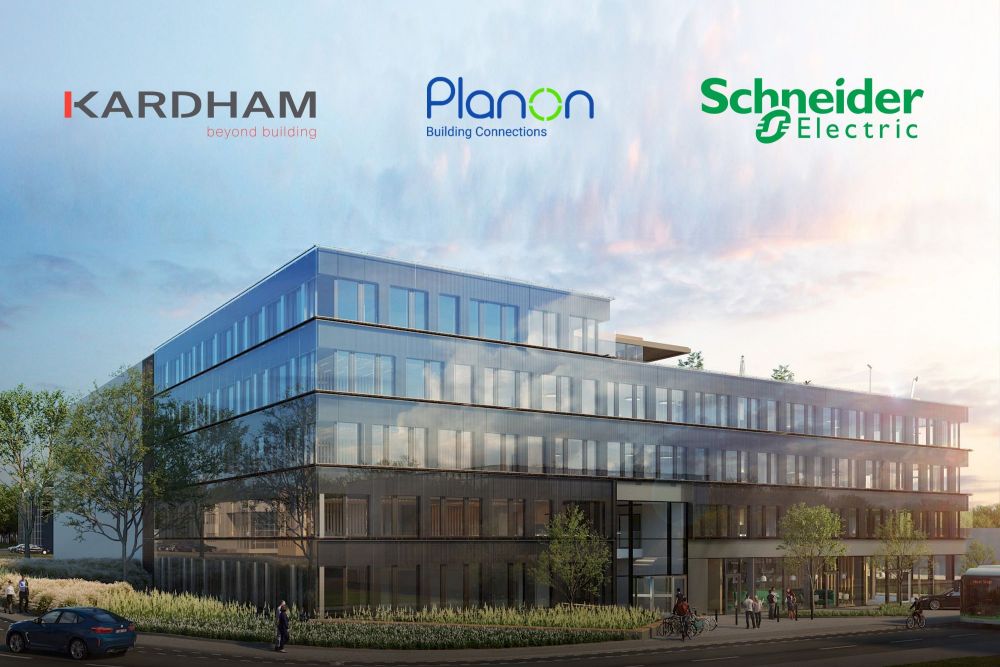 Kardham Digital and Schneider Electric, leader in the digital transformation of energy management and automation, are joining forces to offer an innovative and comprehensive smart building and smart workplace solution. The partnership, which includes Planon, a leading provider of sustainable smart building management solutions, aims to provide a unique offering that will quickly address the strategic and operational challenges of office building owners and users, both in terms of decarbonization and quality of life at work.
The energy emergency and quality of life at work, major issues for the real estate industry
After the health crisis prompted companies to accelerate their digital development, they are now entering a second phase of their digital transformation with the energy emergency, and see smart buildings and smart offices as an opportunity to reduce the carbon footprint of their buildings. This is a major challenge, given that the service sector still accounts for 44% of the country's energy expenditure. The growth of connected infrastructures capable of converging usage and building data is evidence of this dynamic. This data is helping to make buildings more autonomous and efficient, and therefore a source of energy savings.
This mastery of data has also been seen as an opportunity for owners and users to improve the economic performance of their real estate assets and, above all, visibility on their profitability. This is an essential asset at a time when real estate continues to be the second largest expense item for companies.
Finally, as the hybridization of work progresses, office buildings have become the driving force behind a new value proposition for employees: comfort, safety and quality of life at work. With all that this implies in terms of IT infrastructure: offering seamless interaction, ensuring data security in increasingly open systems, facilitating the use of services provided to the user, etc.
Three players, a single offering to cover all building issues
Today's buildings must be able to simplify the user's journey in an increasingly hybrid environment and meet ever higher expectations in terms of quality of life in the workplace, all while contributing to the continuous improvement of their economic and environmental performance. To meet this demand in a coordinated and comprehensive manner, Kardham Digital and Schneider Electric are launching a partnership and involving Planon.
This partnership, designed as a general contractor for building IT, draws on the expertise of each of the three partners to launch the first integrated smart building and smart office offer. Kardham Digital brings its capabilities in the development of customized, real-time solutions for user services and active building equipment. Schneider Electric brings its world-renowned expertise in energy management and control and digital solutions for efficient, sustainable and resilient buildings. Planon brings its worldwide know-how in real estate and facility management software.
The partnership intervenes on :
Consulting and qualification: definition of smart building and smart office strategies.
Energy efficiency: unified architecture for infrastructure control and monitoring (building management, electric vehicle charging infrastructure, energy monitoring, etc.); energy flexibility; operational support.
Data governance: real-time management, building middleware, multi-site repository.
User services: integrated workplace management services, cybersecurity, predictive maintenance, IoT and analytical data, customized digital services, electric vehicle fleet management.
"This collaboration with Kardham Digital and our strategic partner Planon allows us to respond together and quickly to the needs of our targets through a novel and disruptive approach. This customer-focused business cooperation will enhance the ability of organizations to improve the value of their assets throughout their lifecycle, based on greater efficiency, sustainability of their buildings and a suitable working environment for their occupants," Olivier Delepine, Vice-President Buildings & Channels, Schneider Electric France
"This partnership brings a new vision to the market: to bring into play the synergy between three leading buildtech players to propose a unique and innovative offer capable of responding in a coordinated and global way to the challenges of both owners and users of real estate in the tertiary sector, and to standardize an asset-based approach with agility per building", Johan van Nimmen, General Manager Planon EMEA South
"The smart building and smart office markets are very fragmented and the various solutions on offer lack interoperability, yet companies need simple, seamless solutions more than ever to improve the sustainability and efficiency of buildings and the working experience of their employees. Today, we finally have a 360 solution that covers all building IT topics", Pascal Zératès, CEO of Kardham Digital