Consulting -
Design & Build
Nexmove - Paris
New offices facing Parc Monceau
Consulting -
Design & Build
Nexmove is a leading player in career strategy consulting for managers and their teams, and wanted to have a seat in keeping with the company's image, and which would be a major tool in achieving its ambition: Leaders in motion .
Finding new premises
On the occasion of the expiry of its lease, the firm began a Stay or Move strategic reflection. As the former headquarters in Levallois-Perret no longer corresponded to the image that the company wanted to convey, Nexmove chose Kardham to help it write its specifications and then identify and fit out its new emblematic headquarters.
The project started with our Occupier Solutions teams, who carried out an opportunity study, then a strategic framework of the needs, ambitions and values to be instilled. This preliminary mission made it possible to identify potential buildings that best met the need, including the one that was selected: a beautiful Haussmanian building facing Parc Monceau.
The architectural concept
3 principles taken then guided our Studio for the architectural concept, for chic, warm and warm spaces:
Reassure the user: by imagining a welcoming place, playing on the home feeling
Accompany with new services: agile spaces and uses to allow the user to experience the place more easily
Post-Covid: make employees want to come and work on a site in complete safety
The programming had to provide confidential spaces - essential to the company's activity, while optimizing openness and light.
This is why some spaces are modular, in particular the Workcafé, a centerpiece that allows multiple uses, ranging from relaxation to events, including meetings, all of which is optimized by Priva-Lite glazing, glass with controlled occultation.
More than 600 m² to meet, get inspired, recharge, undertake...
Focus on "inspiring personalities"
The offices and atmospheres have been associated with inspiring characters, decided collectively by Nexmove employees. These choices have been translated into the wall decoration via paintings, as well as into the signage: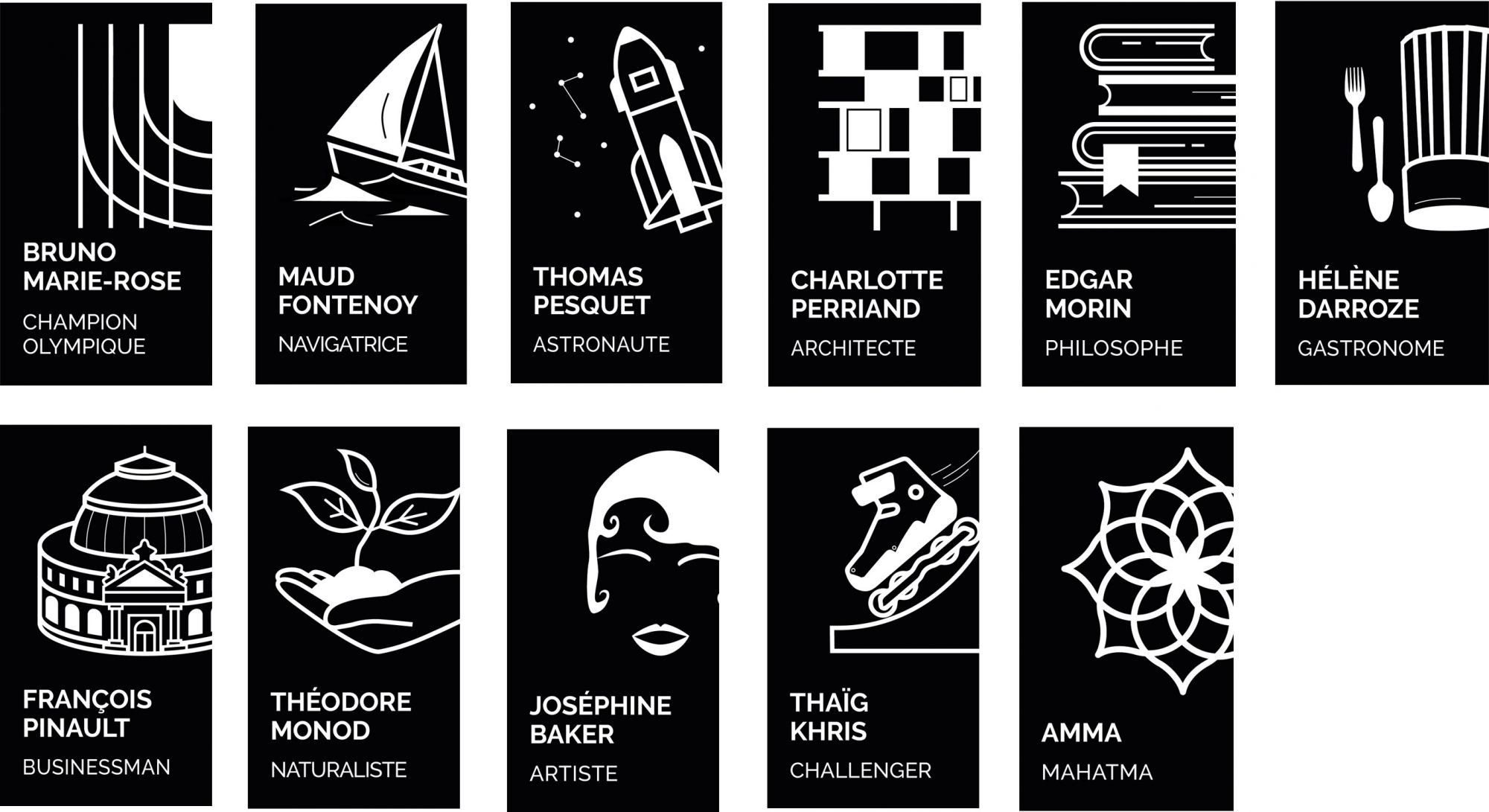 The spaces in pictures :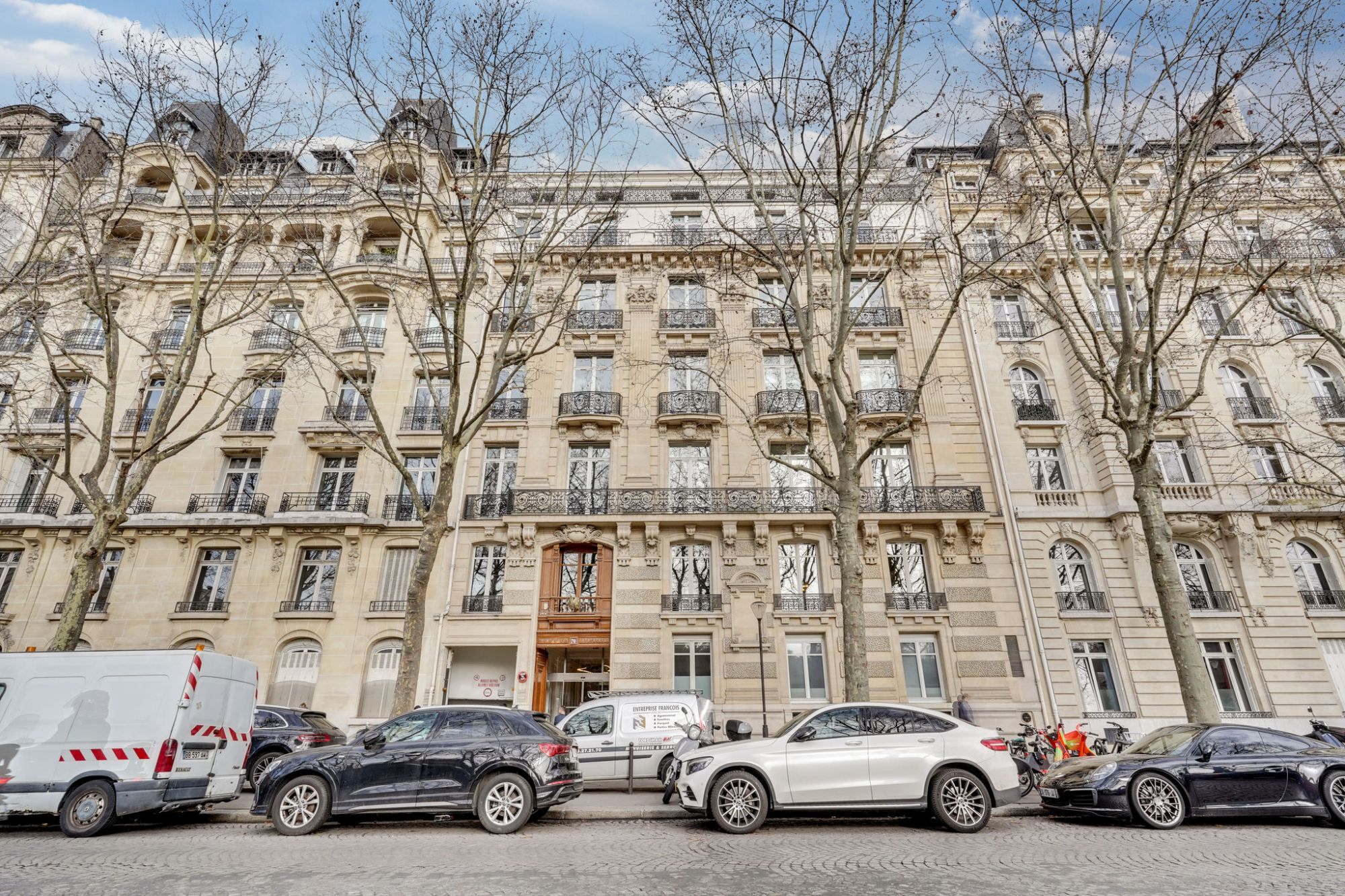 L'immeuble est situé boulevard de Courcelles, face au Parc Monceau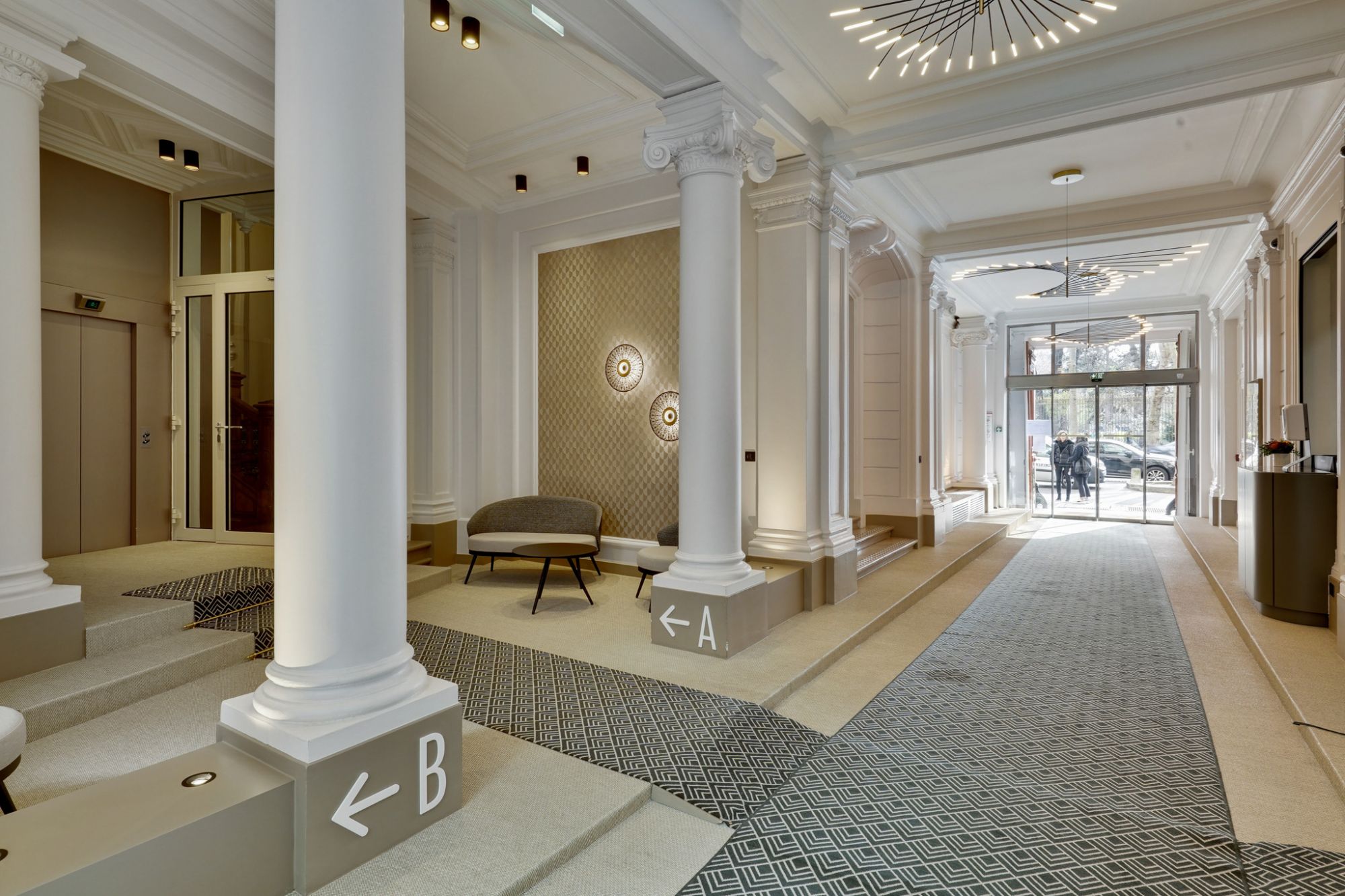 Le hall d'entrée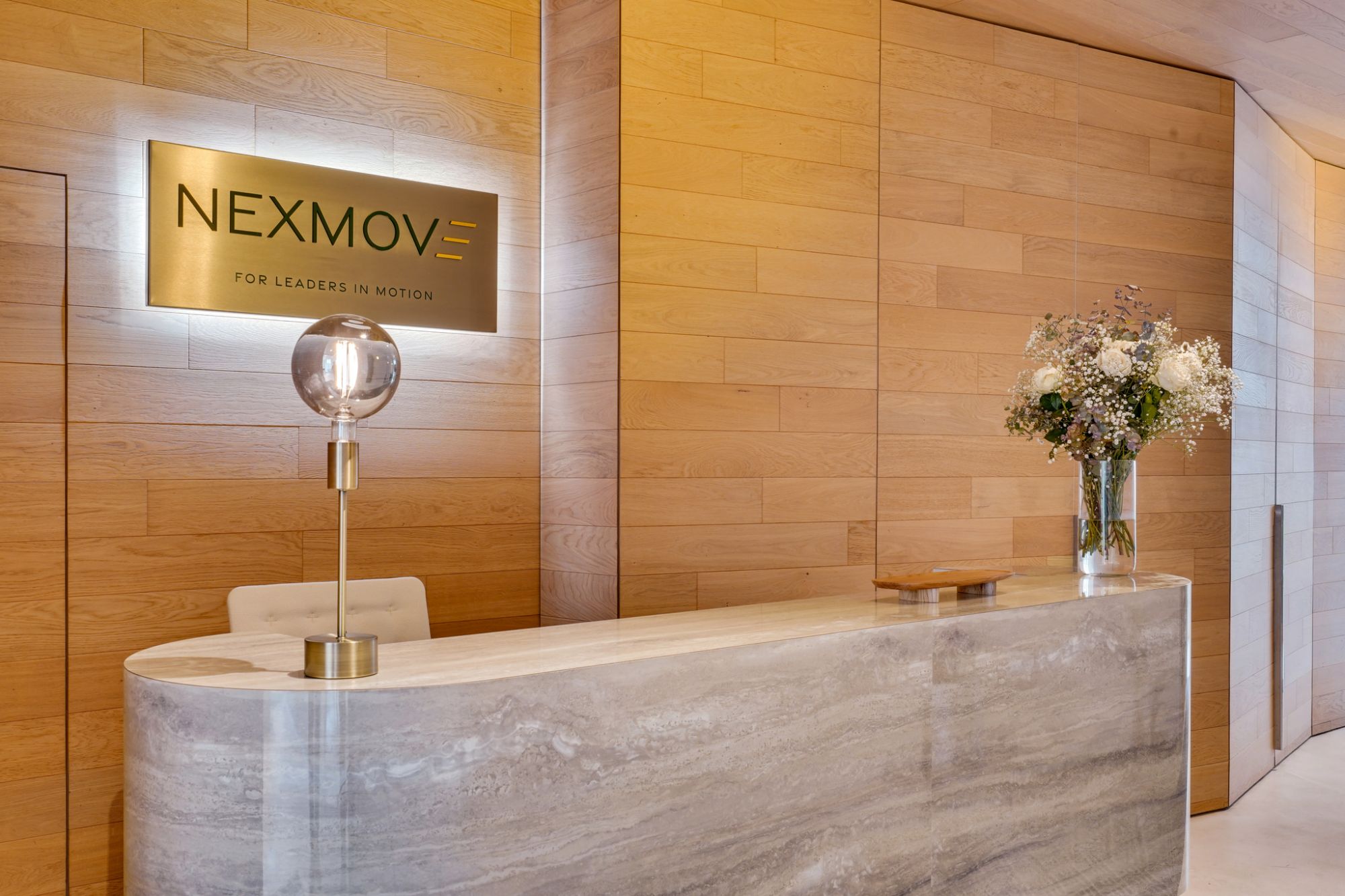 La borne d'accueil en marbre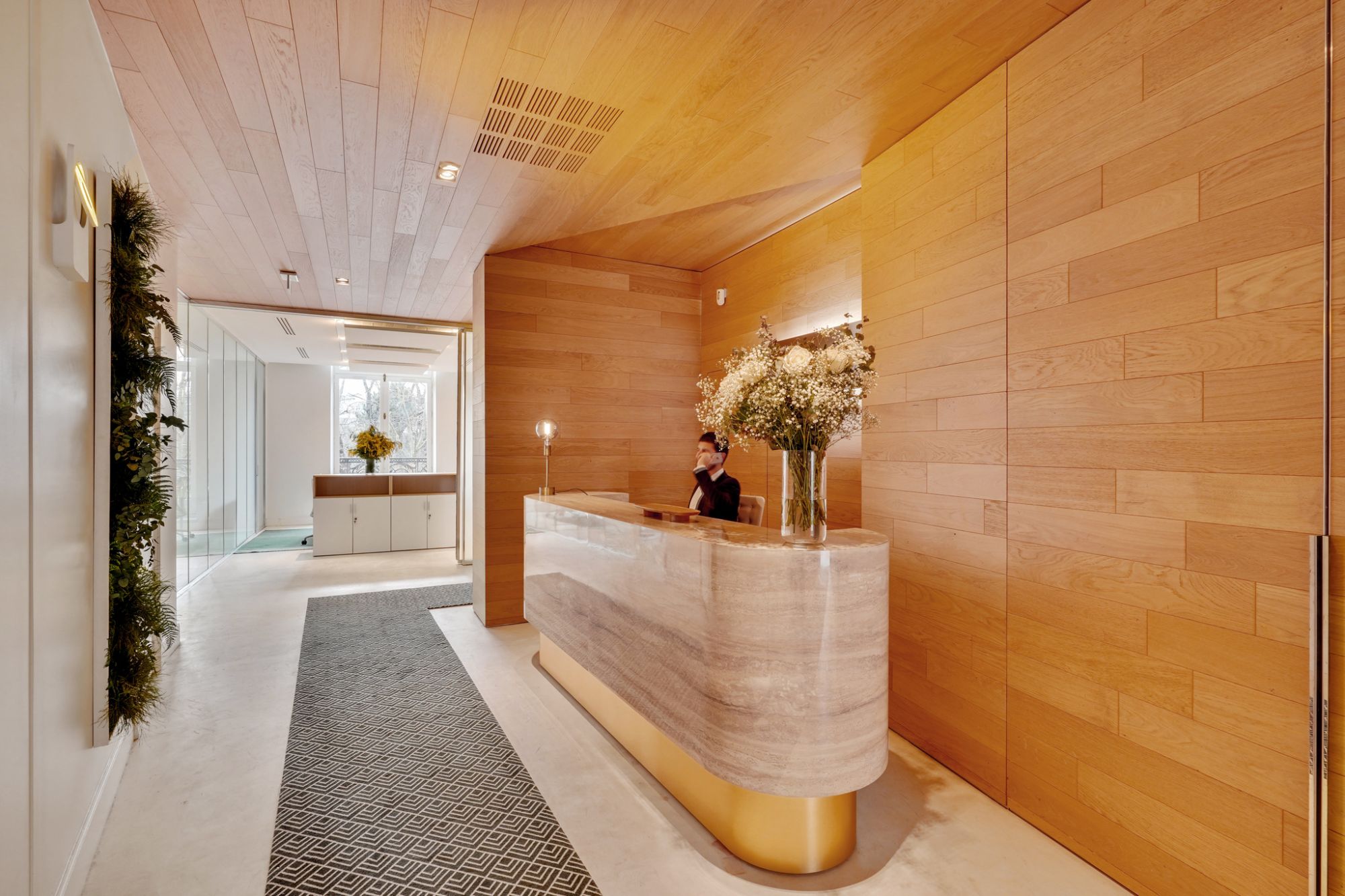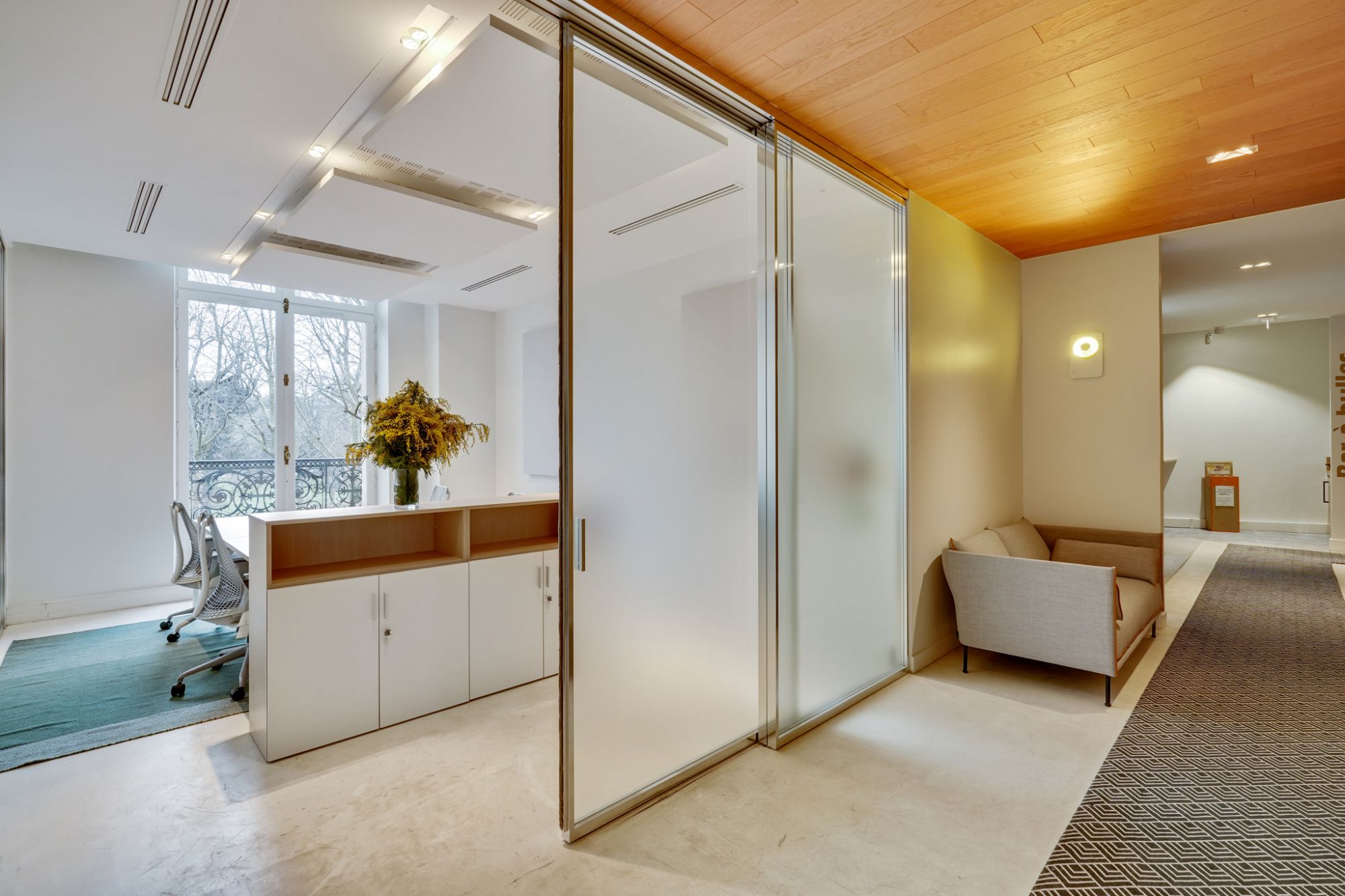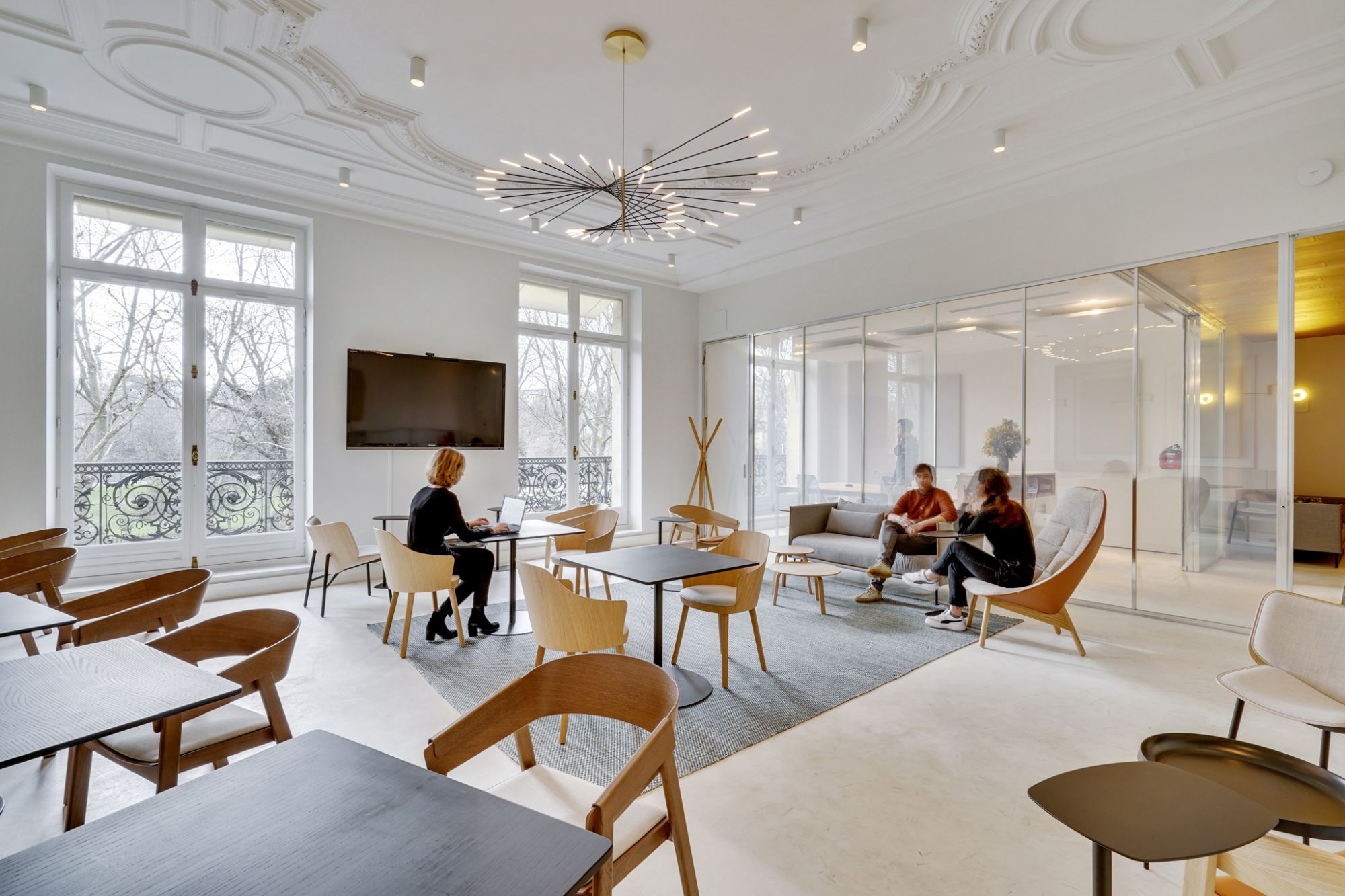 Le Workcafé, un grand espace pour se rencontrer et échanger, le temps d'une pause ou d'une réunion de travail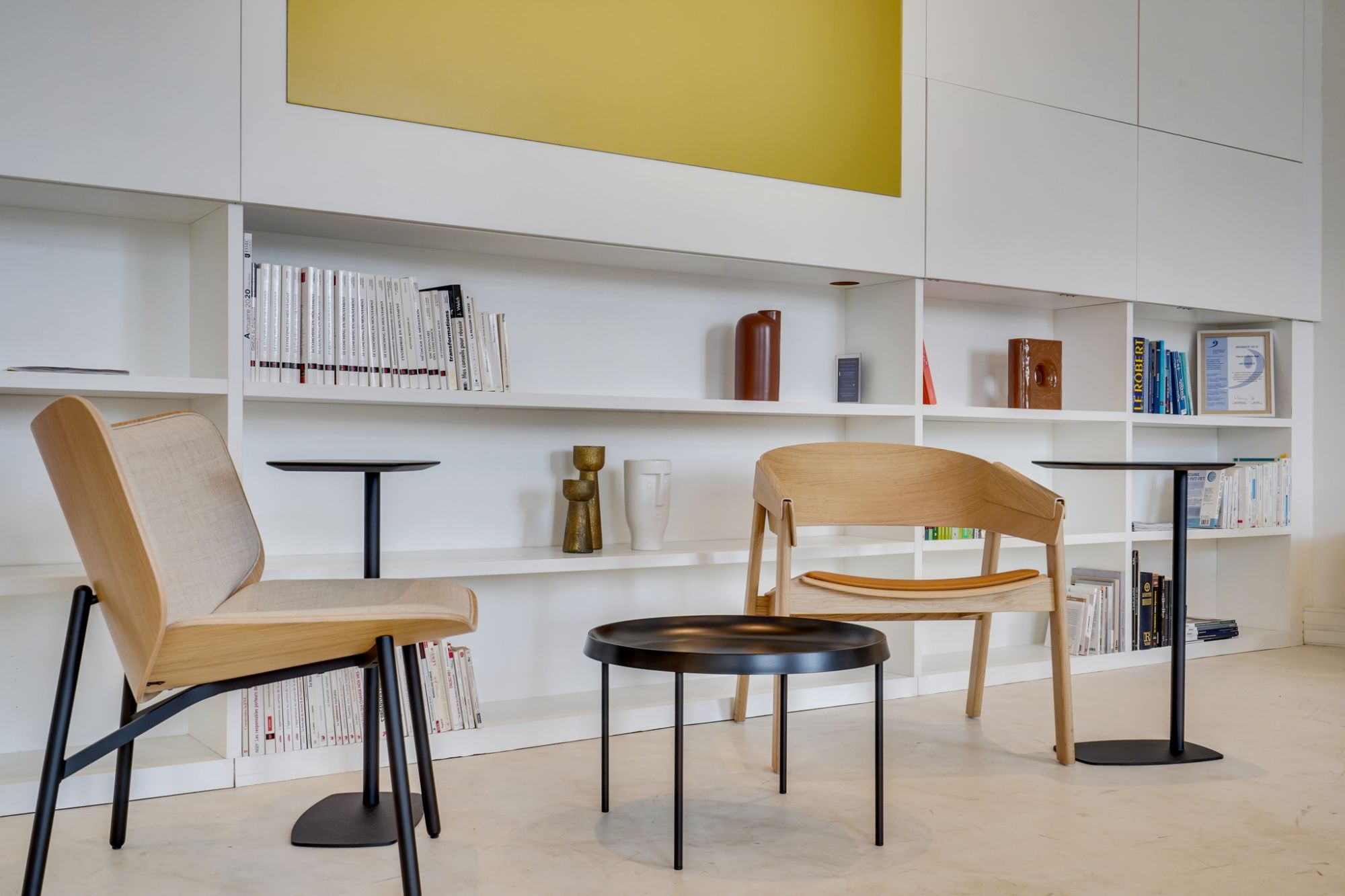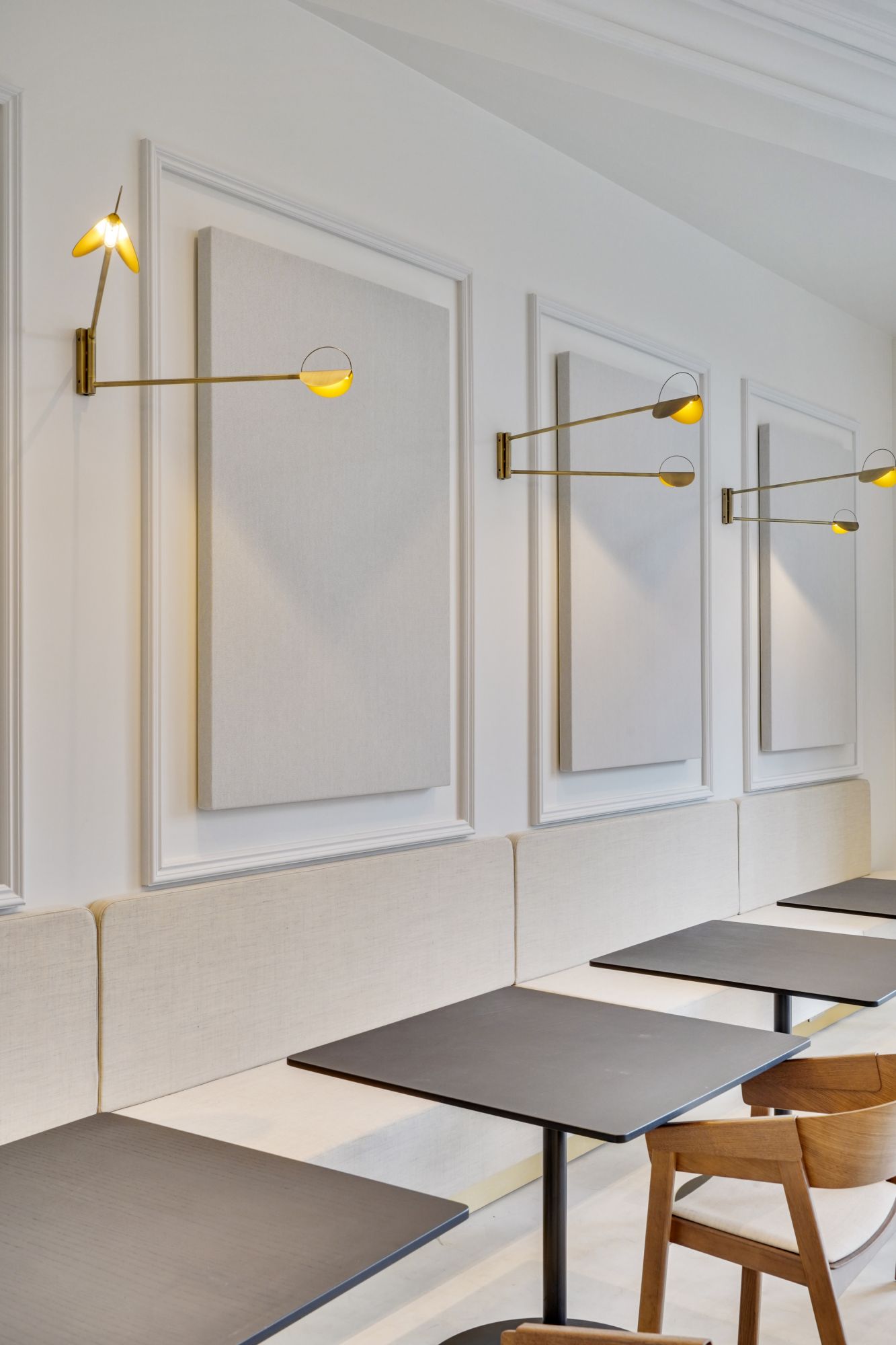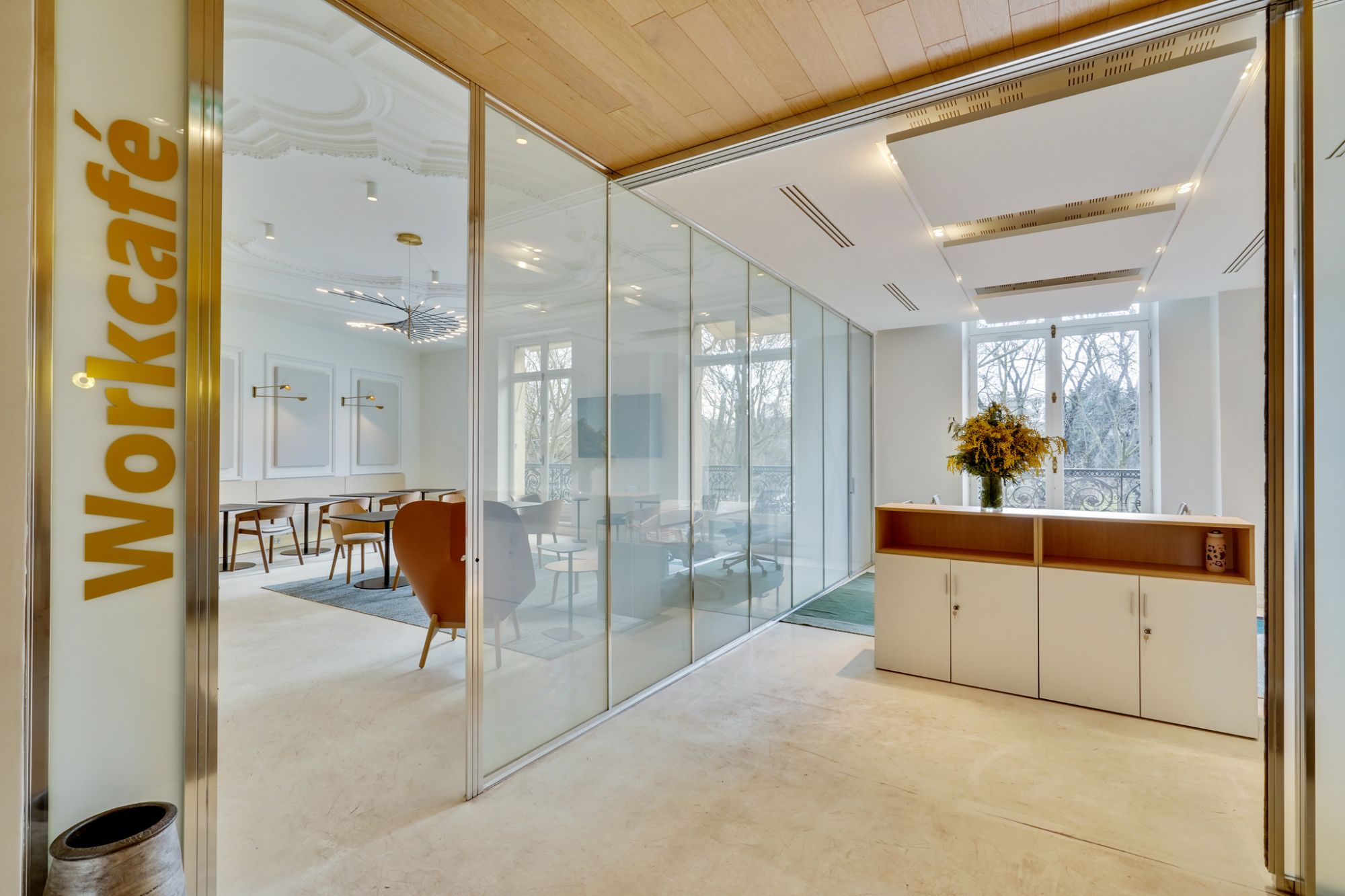 Jour...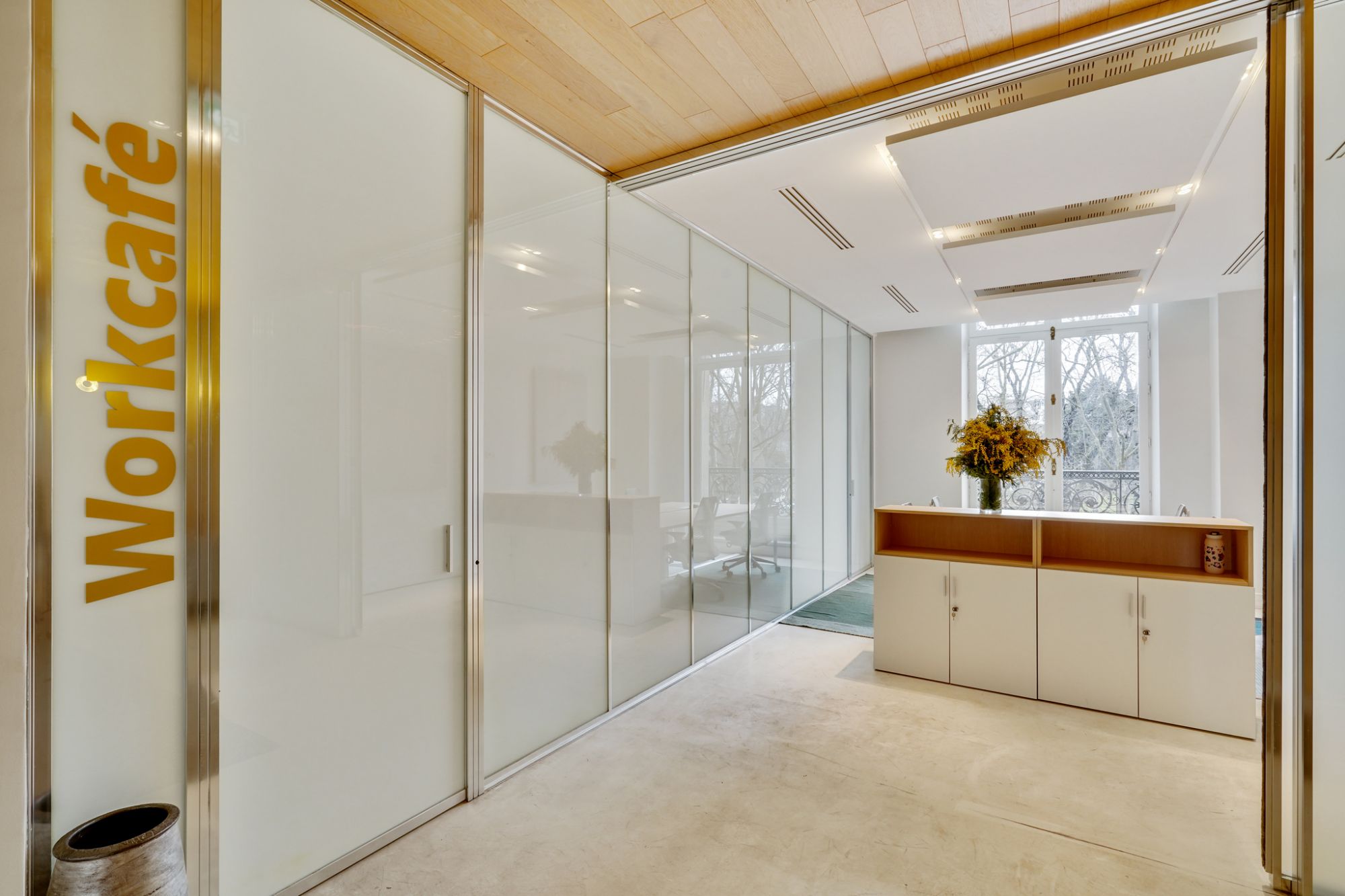 Nuit ! ;) La magie du vitrage Priva-Lite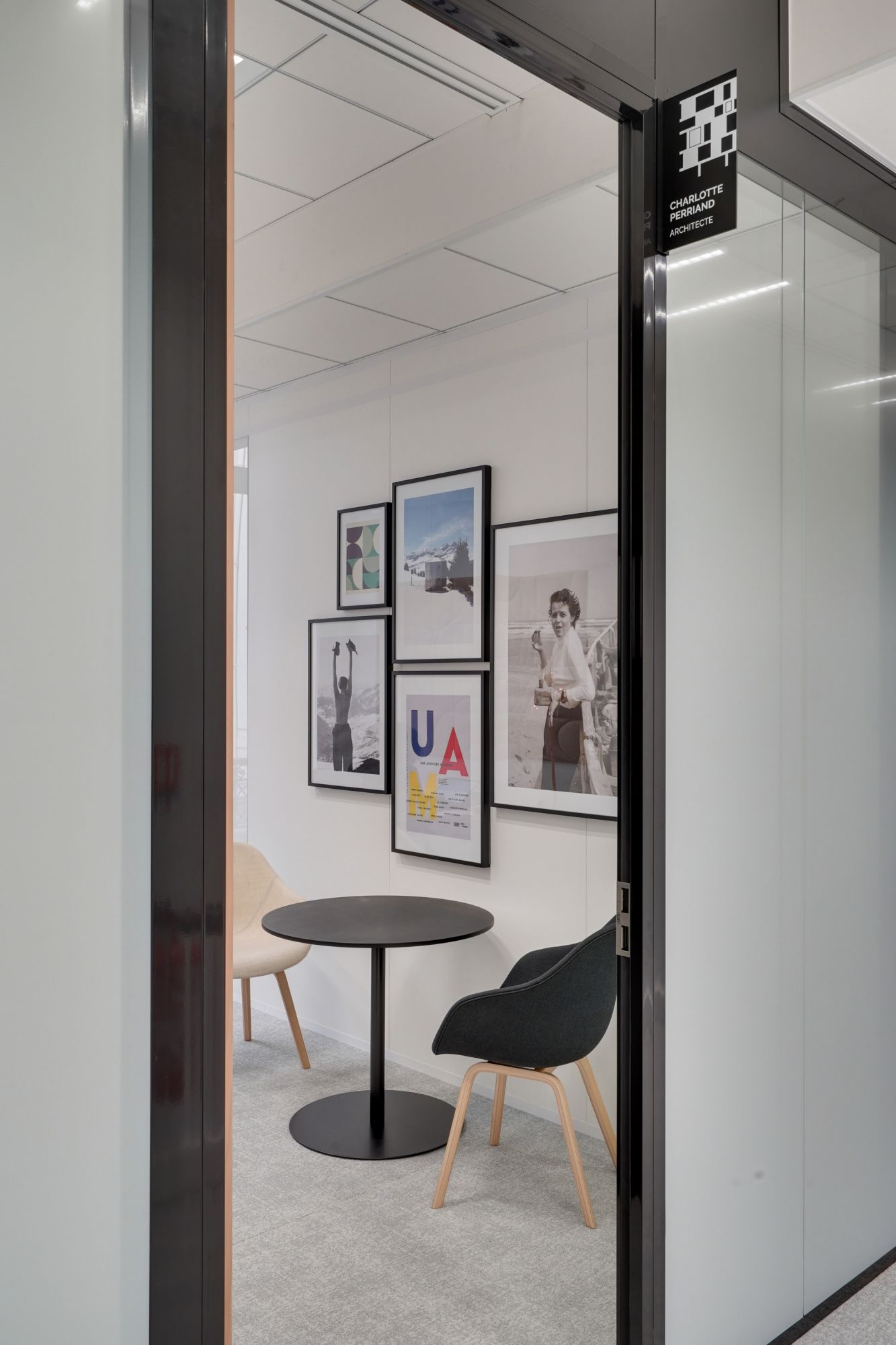 La décoration du bureau "Charlotte Perriand"
Le bureau "Maud Fontenoy" et ses sièges Fiber de Muuto en cuir cognac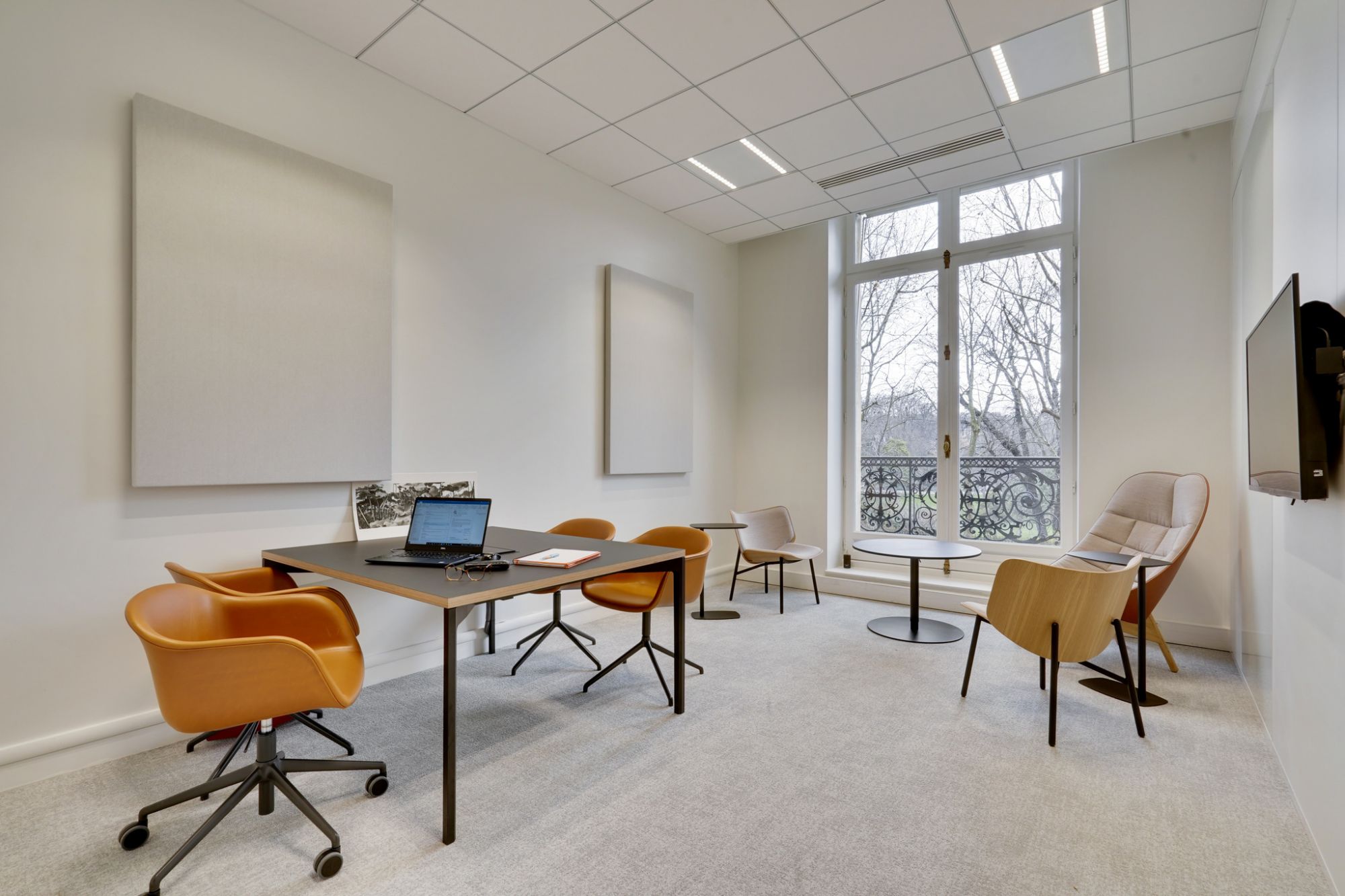 Le bureau "Bruno Marie-Rose"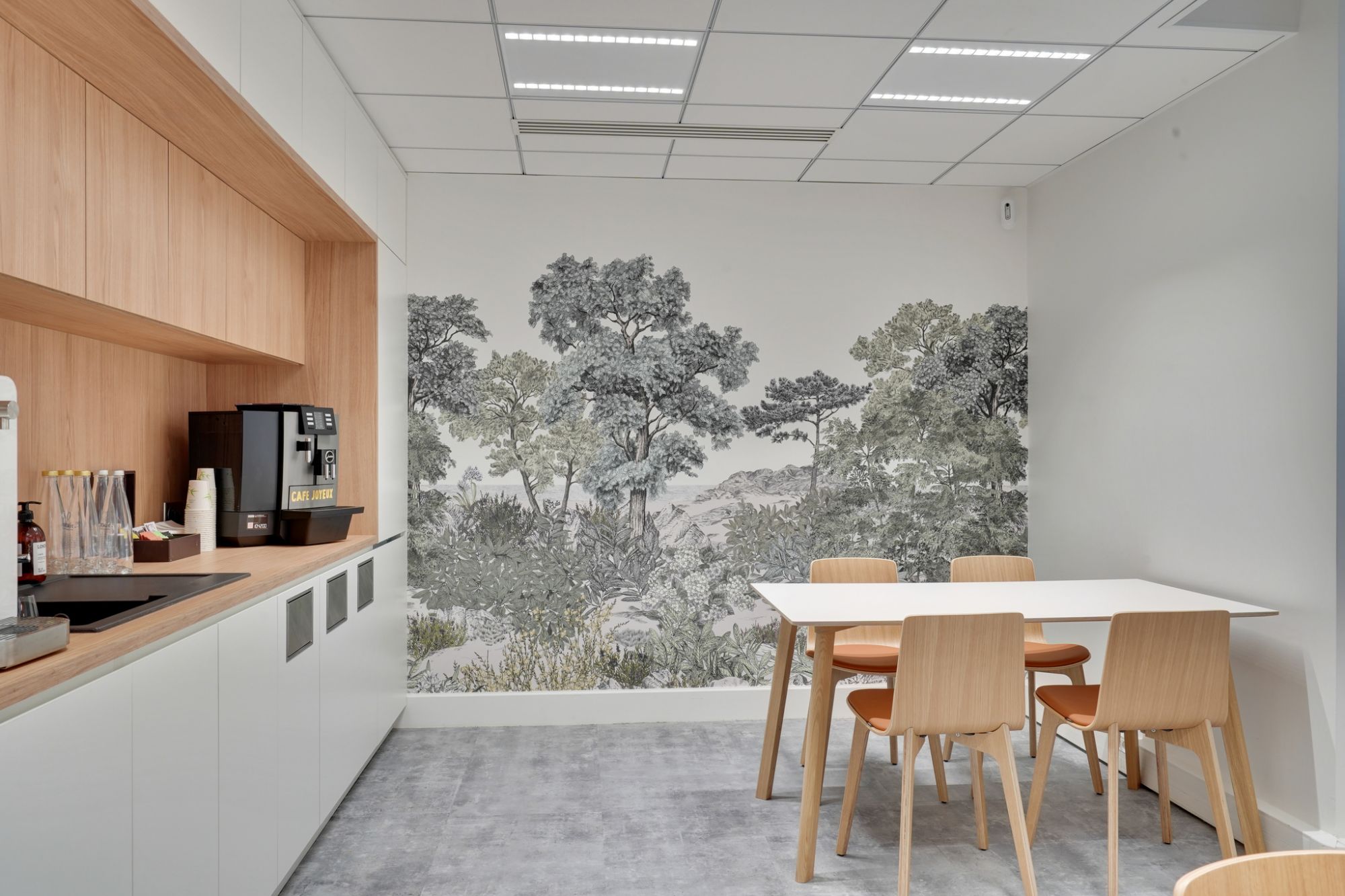 L'agora, espace cuisine pour les collaborateurs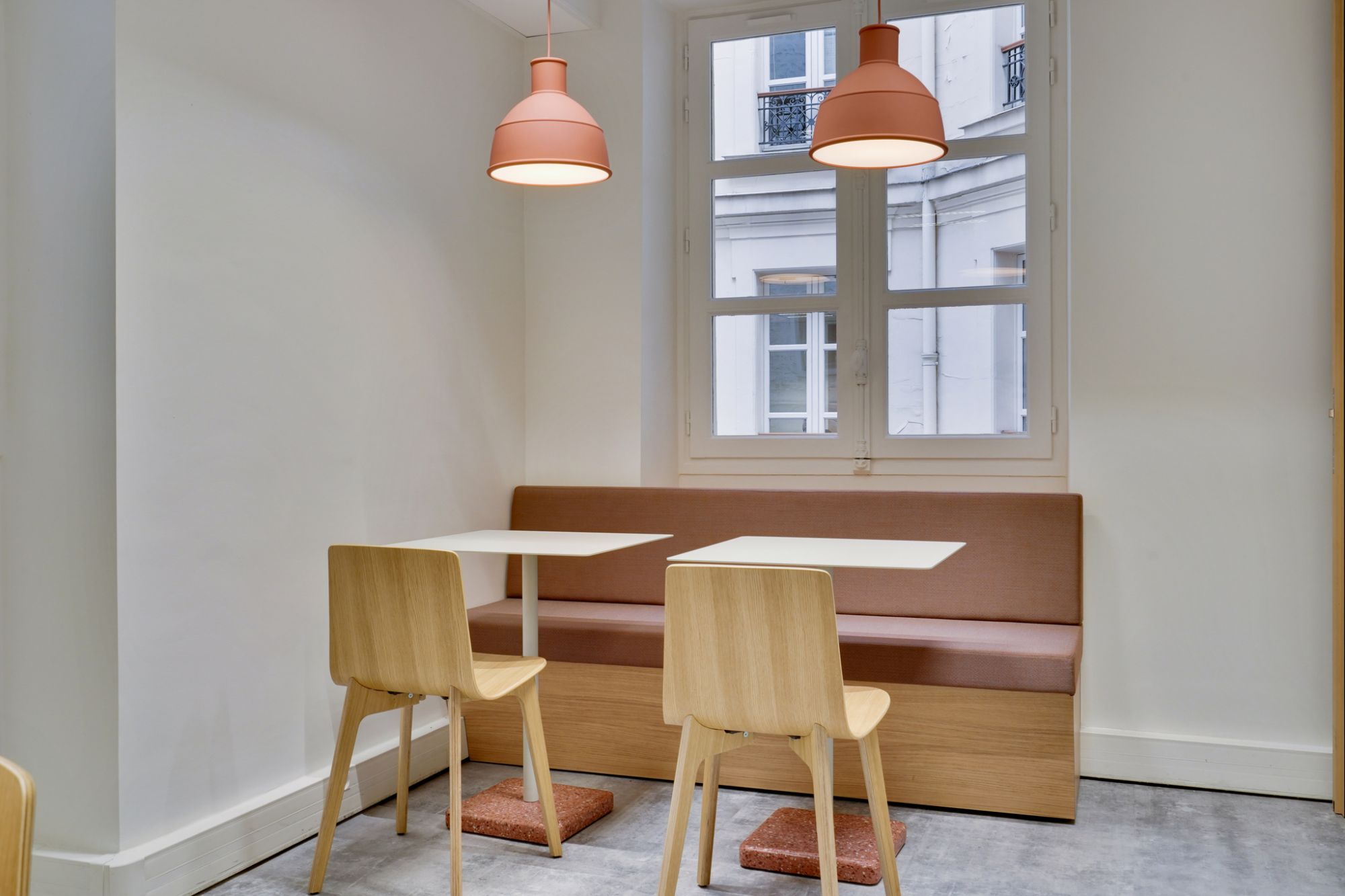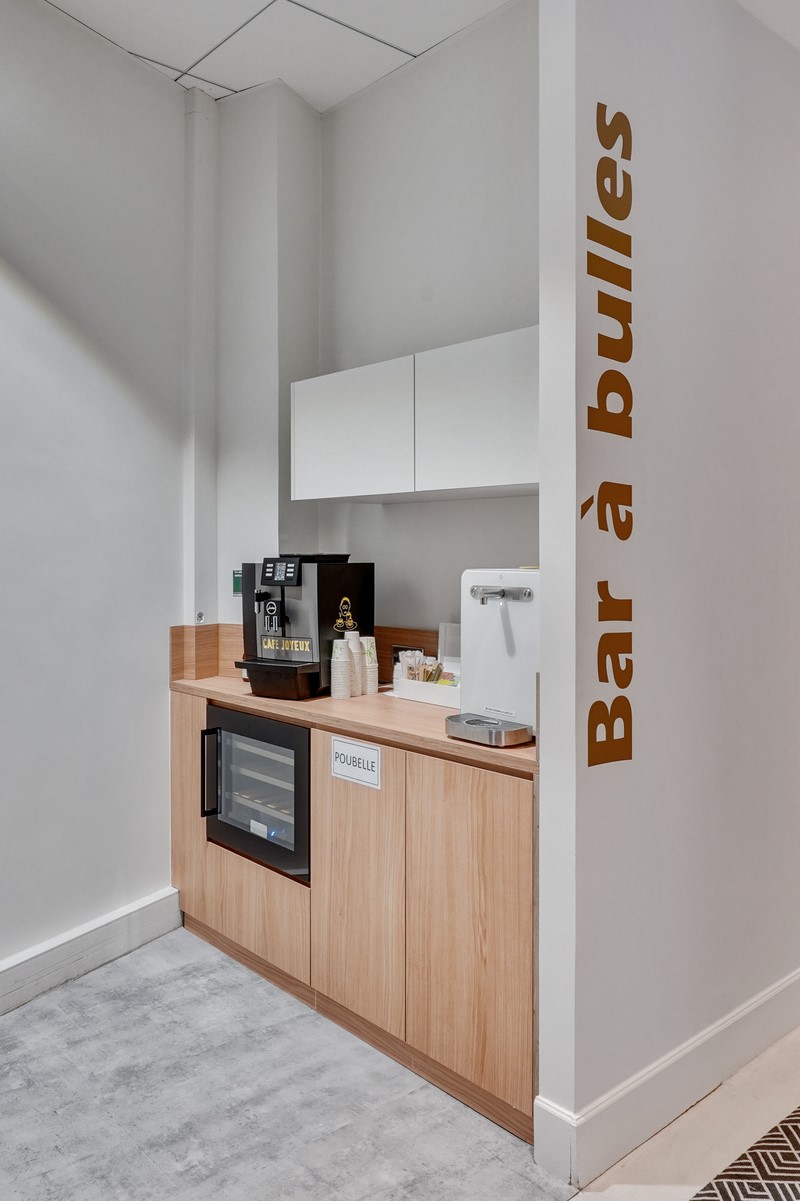 Le bar à bulles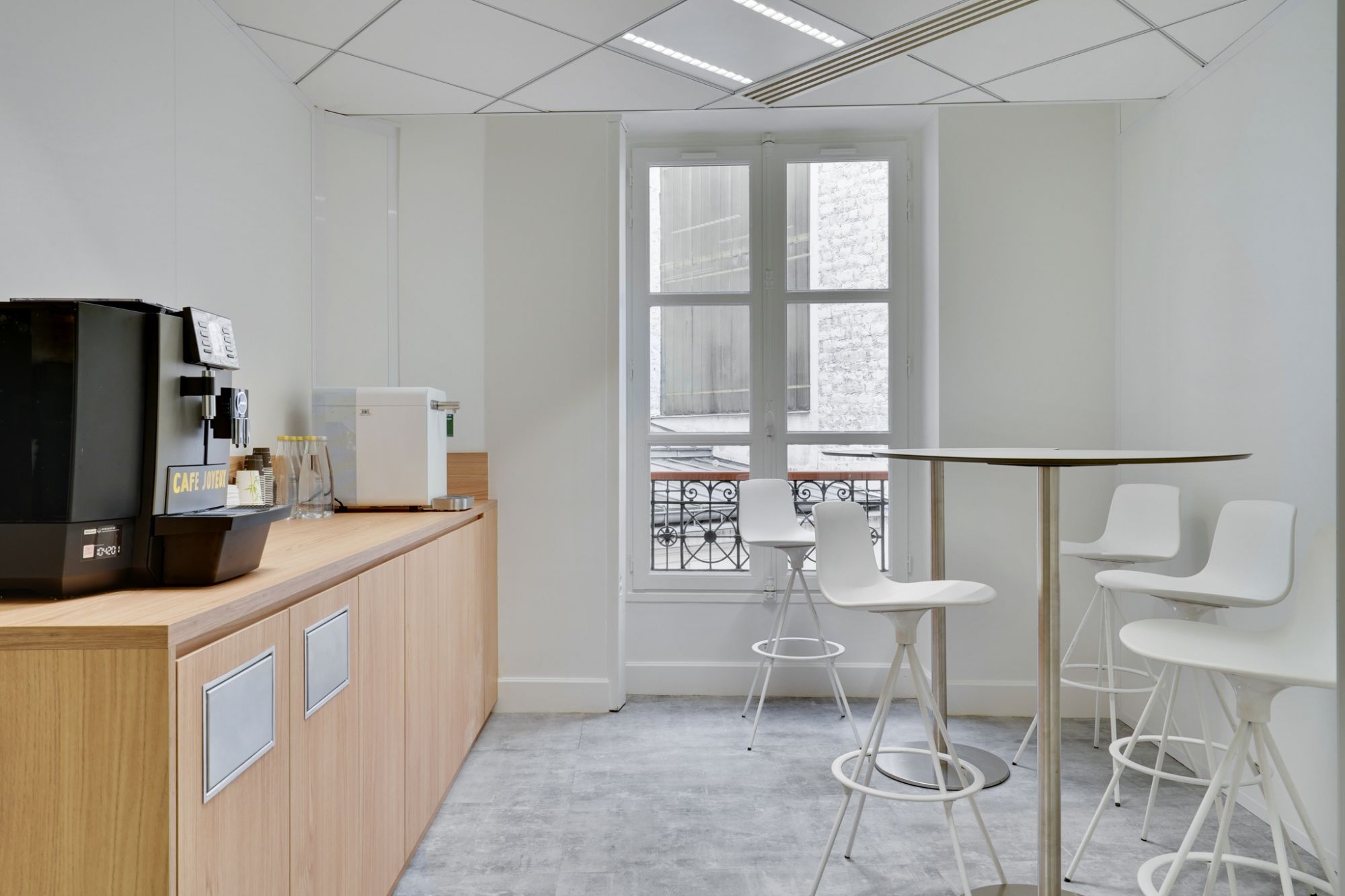 Une tisanerie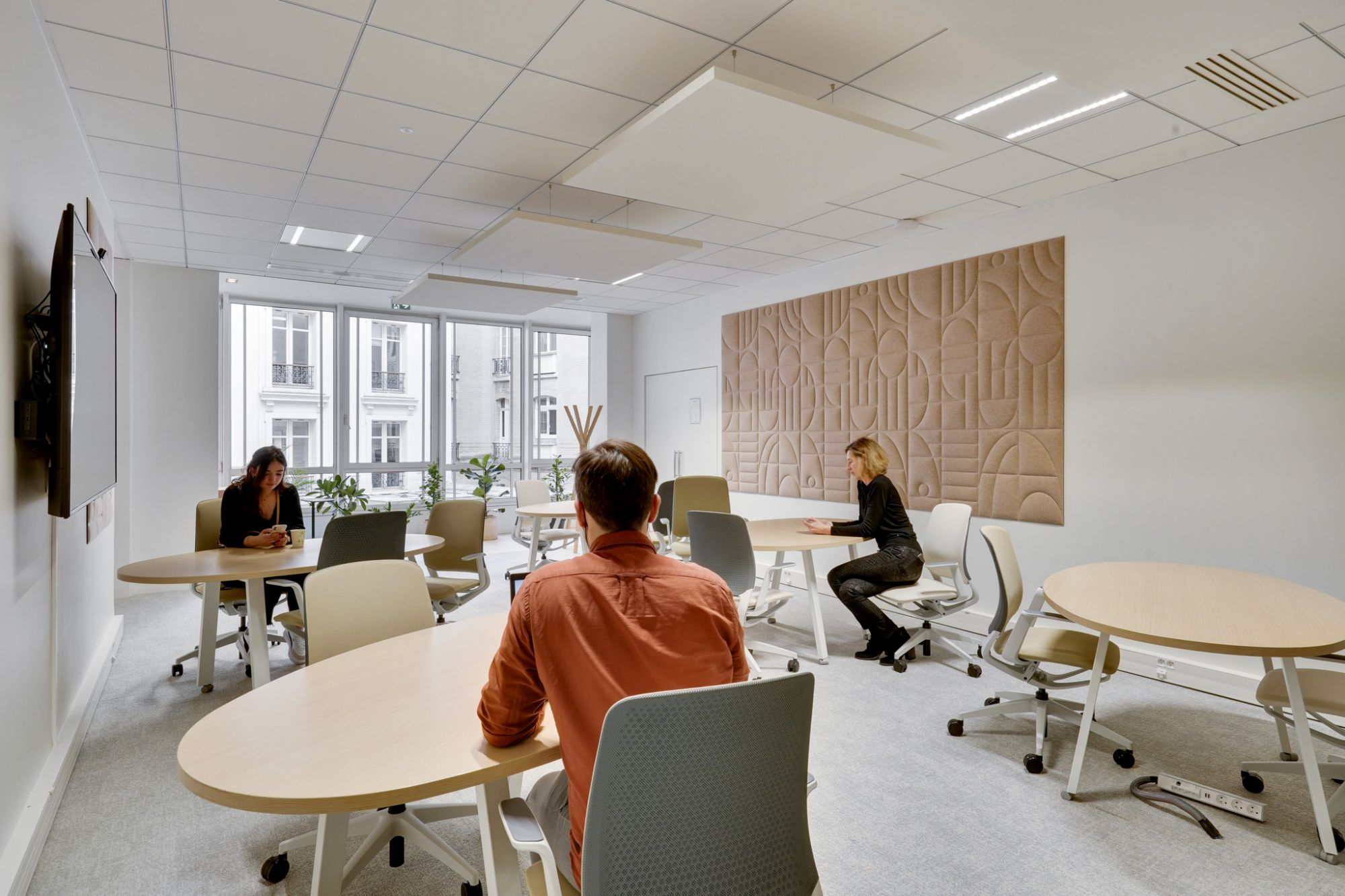 "Station N" : un espace modulable pour travailler en sous-groupes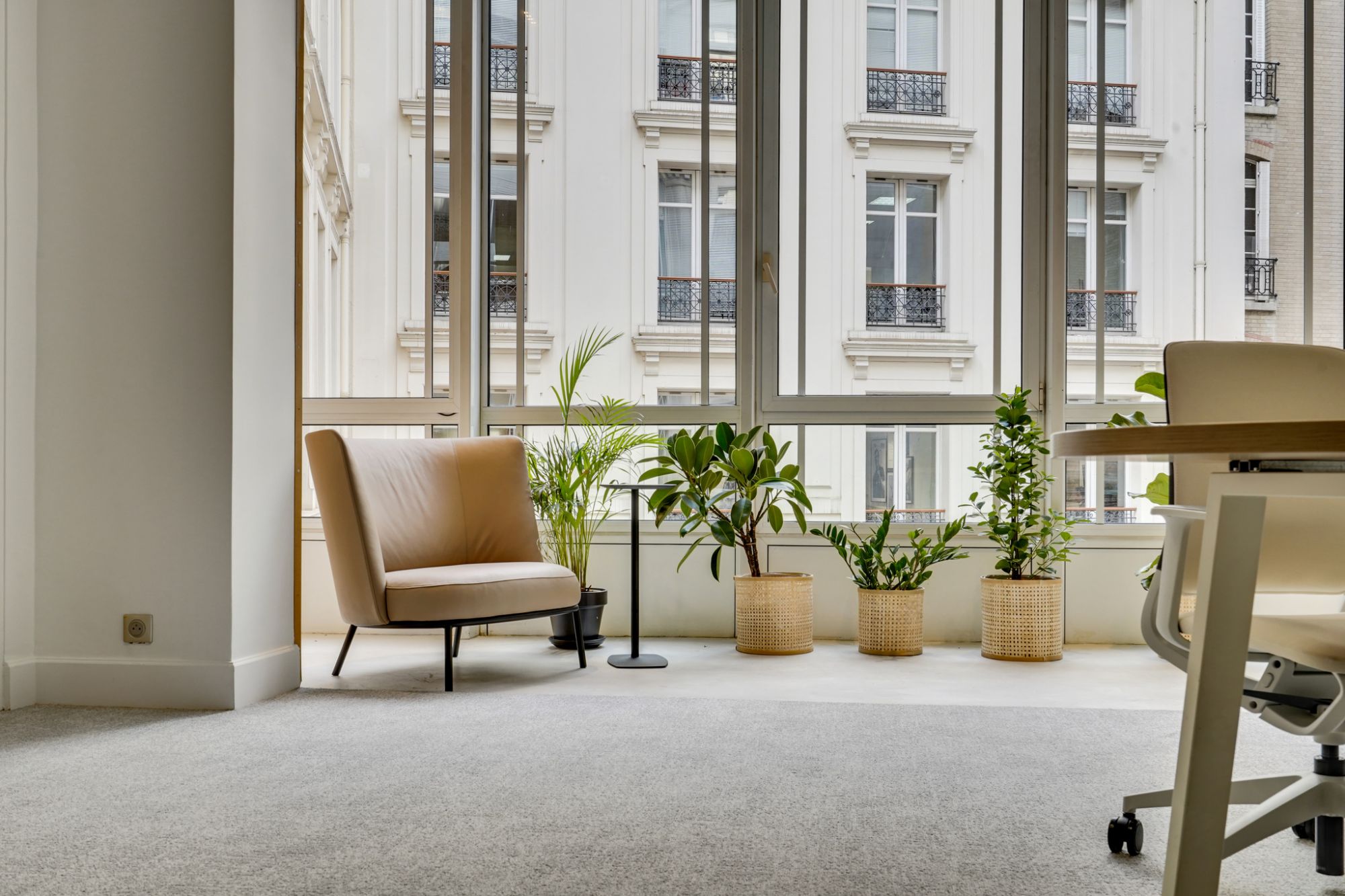 Le coin lounge de la Station N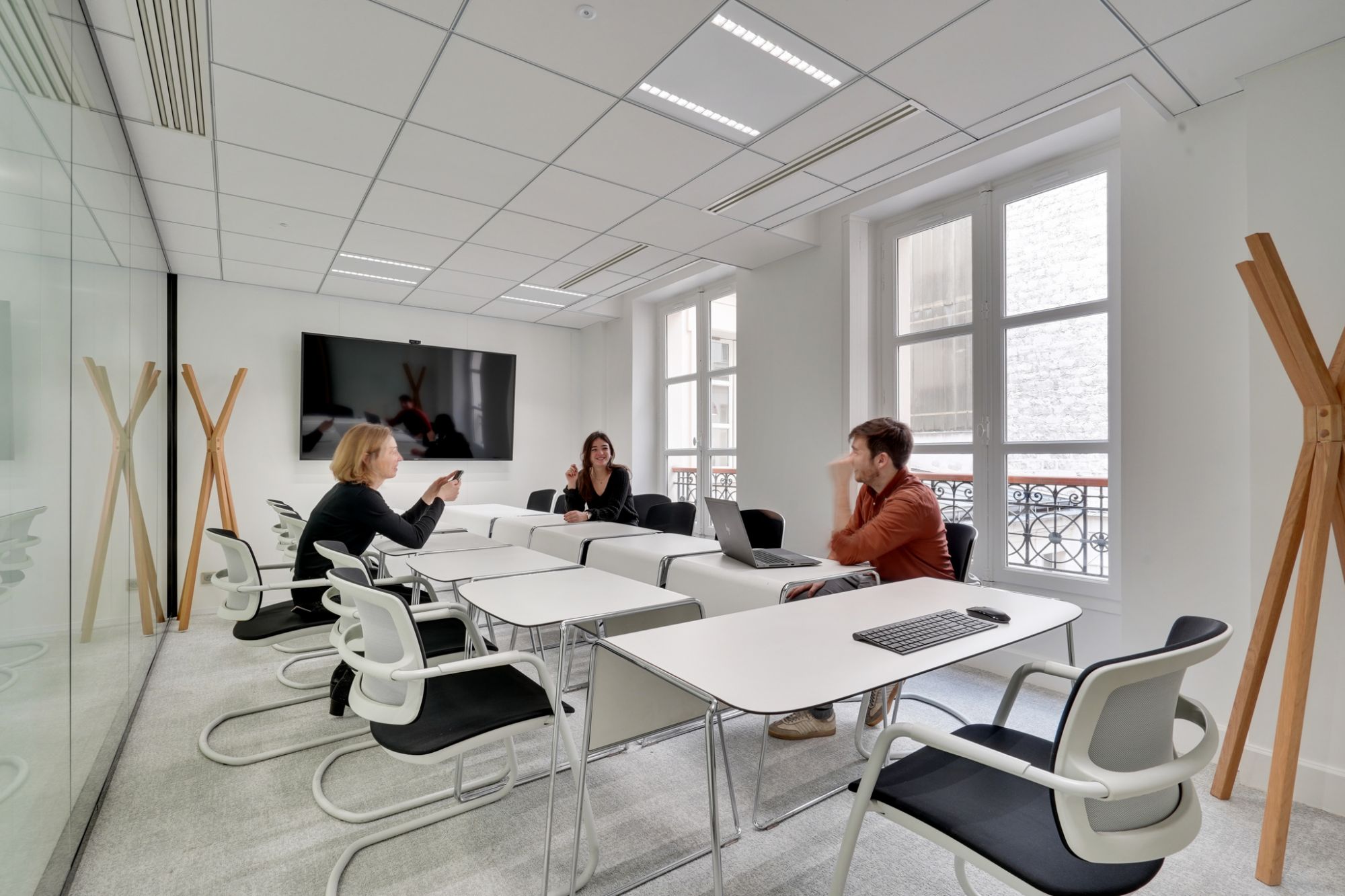 La salle de formation 100% modulable, avec ses tables individuelles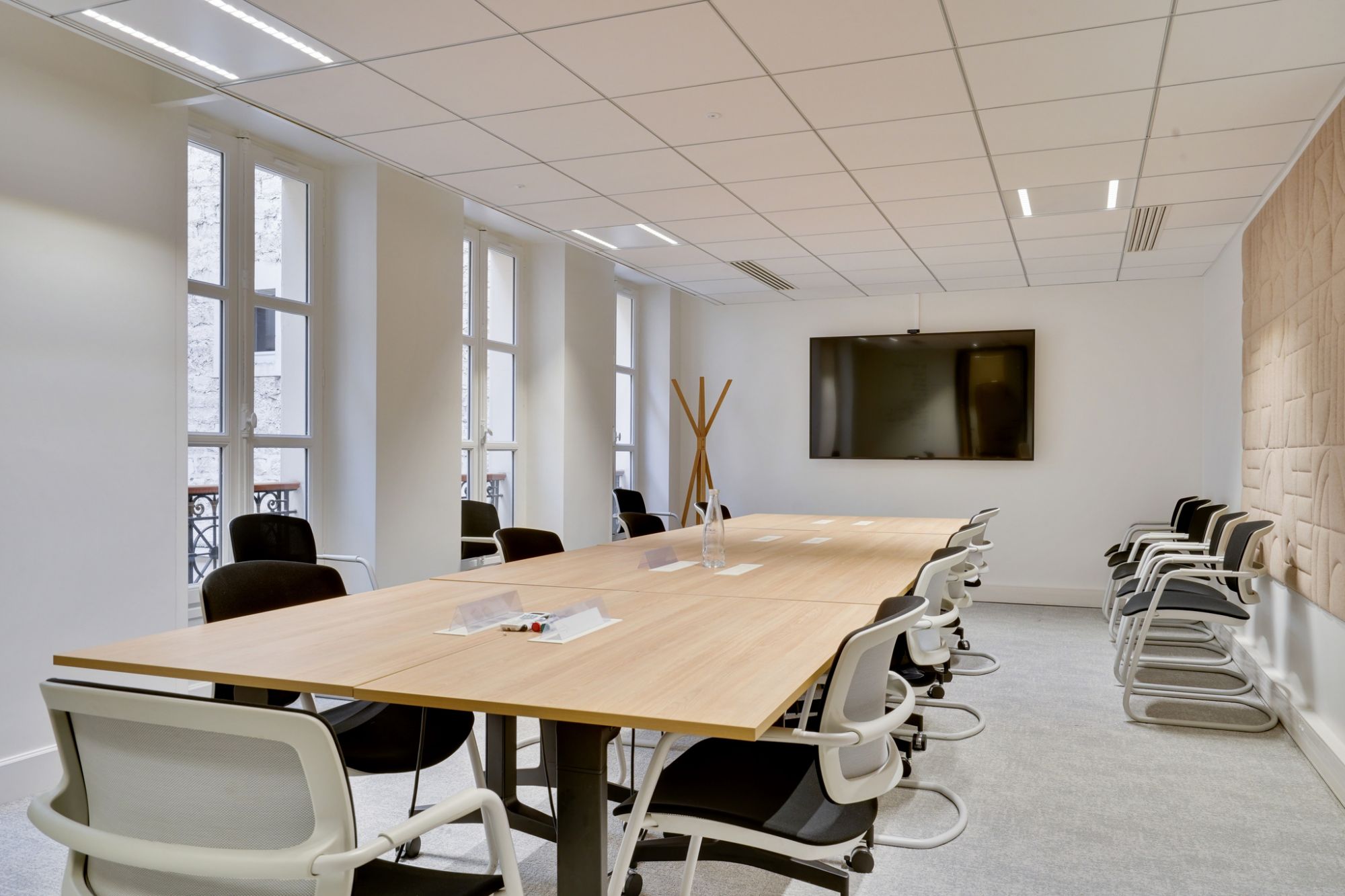 La grande salle de formation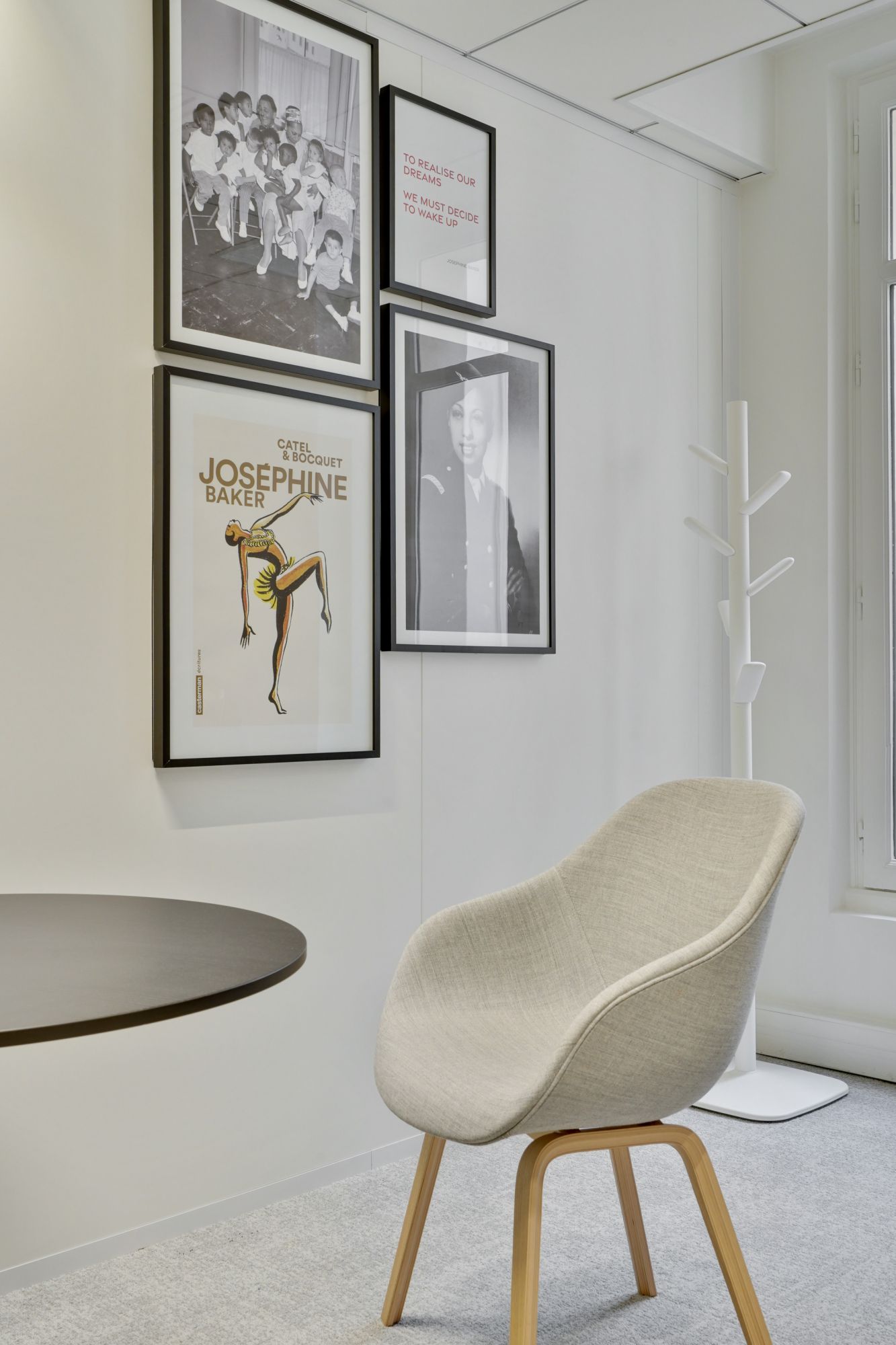 Le fauteuil Hay AAC, ici en version haute