Thyssenkrupp France
Webinar platform
Kardham Digital has created the webinar platform for thyssenkrupp Ascenseurs. Custom-built from the Kardham Digital Live digital webinar and live event platform, the system allows 2,500 clients and/or employees to connect simultaneously during live and on-demand webinars.
Helping companies to use alternative ways of communicating in the face of a crisis
Organisation of large-scale teleworking and demand for increased capacity in videoconferencing and instant messaging: the Covid-19 global pandemic has forced companies to urgently dematerialise their communications due to the isolation of their customers and employees at home.
This is the case of thyssenkrupp Ascenseurs, a specialist in the transportation of people and goods by elevators, escalators and moving walkways. The company wanted to implement a tool that would allow the organization and running of digital seminars to help its customers (facility managers, architects, etc.) to better master all the issues and problems related to elevators and escalators. The request was for a tool capable of offering online training courses that could be accessed by simply registering, where users could also interact with the expert facilitator (in particular through a chat), and which could be followed live or recorded on the web, thanks to replays.
The large volume of simultaneous connections, the frequency of webinars, the desire for a customizable solution (adoption of the customer charter, adaptation of functionalities to marketing needs), automated and developed in a sovereign environment led thyssenkrupp Ascenseurs to choose a tool developed by Kardham Digital.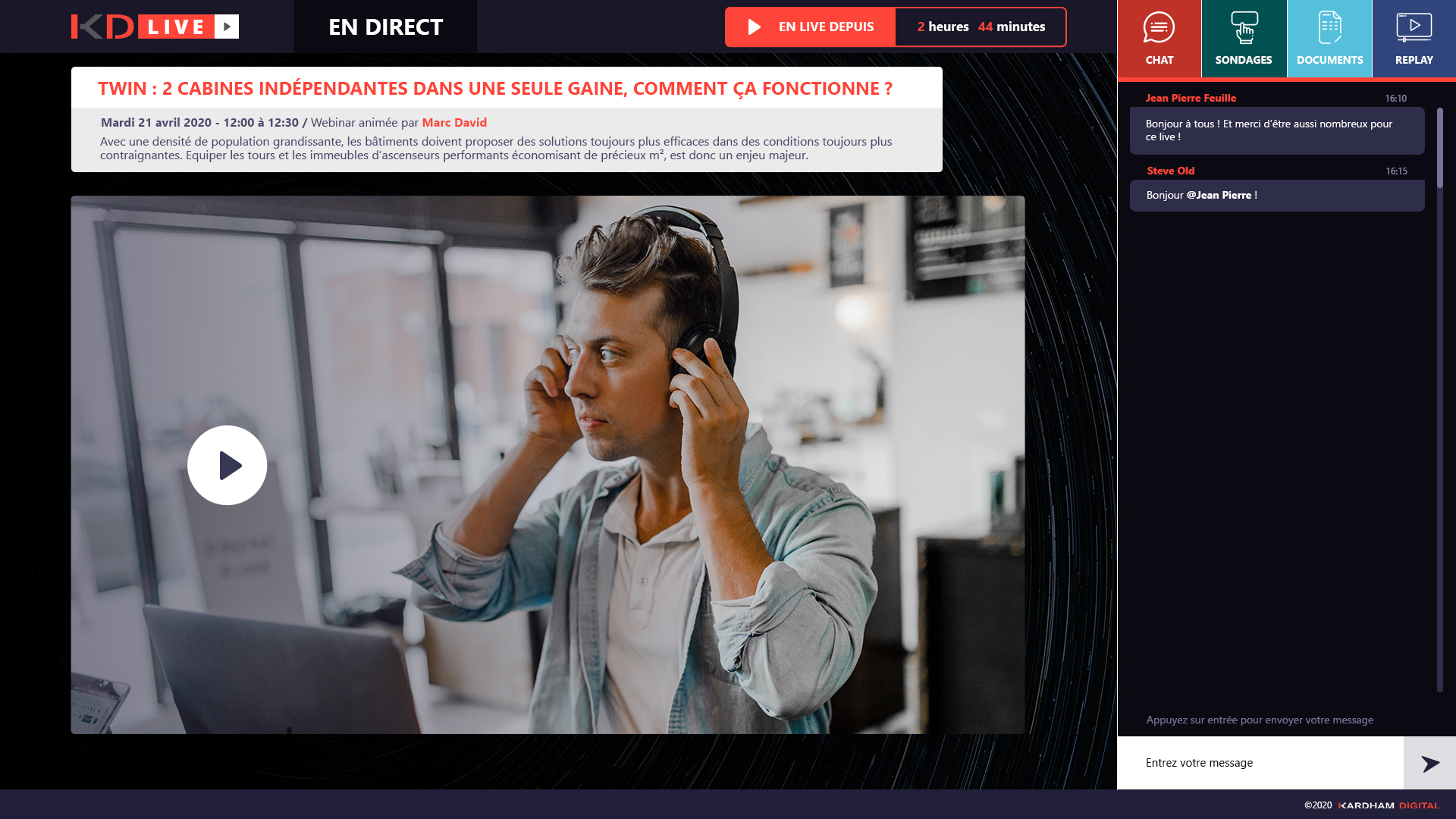 A powerful, tailor-made and independent solution
Kardham Digital designed a fully customized platform in full SaaS, available on subscription (with a price that varies depending on the number of users). The platform allows up to 2500 users to connect simultaneously. The creation and management of sessions and invitations are automated. A chat, a VOD management interface for replay, integration of customer data (company directory) and a download library are also provided. Finally, the platform has been developed in Secure by Design mode, with data hosting in France respecting the GDPR.

"With the containment, videoconferencing has seen a spectacular explosion, and it is likely that its use will remain firmly rooted even after the crisis. We are pleased with the confidence that a player like thyssenkrupp Ascenseurs has shown in us to support it in its new work organization and digital transformation challenges. This project illustrates our ambition: to make Kardham Digital a key partner in the digital and audiovisual development of companies, always with this responsible and sustainable approach to infrastructure design. Our approach is to enable companies to take advantage of all the assets of digital to gain in interactivity and ease of use for their customers and employees, to gain in agility and increase their ability to innovate and reinvent themselves, etc. All this without compromising their IT security", says Pascal Zératès, Managing Director of Kardham Digital.

"Our initial problem was to maintain a human, regular and useful link during this period of containment with our customers to continue to train them on topics related to elevators and escalators and to support them on technical dimensions. We chose Kardham Digital to support us because the proposed solution was in line with our aspirations and constraints: a platform with functionalities adaptable to our marketing actions and powerful in terms of the number of connected users. Having reached this objective, we are now going to develop the use of the platform internally as well, to train our 2300 employees. In fact, if the platform was born out of a specific need for external communication during a period of containment, it will also enable us to offer, outside of isolation and in line with the company's digitalization strategy, a greater number of training sessions in a smoother and more engaging way" , says Emmanuel Paris, President of thyssenkrupp Ascenseurs.