The group reorganizes its capital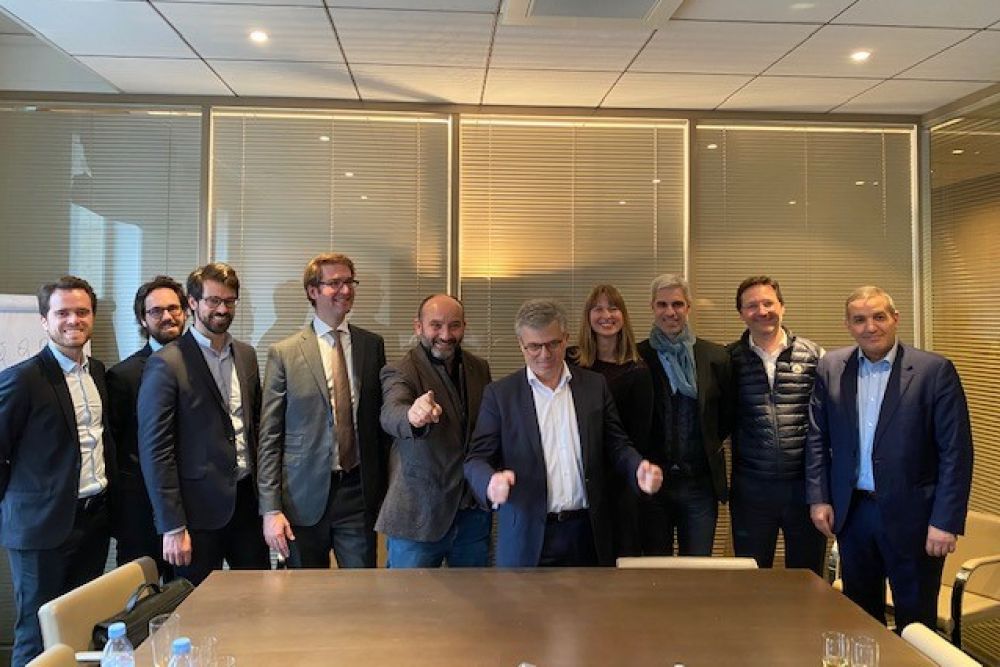 The Kardham Group, France's leading independent and integrated player in the professional real estate market, announces the entry of GENEO Capital Entrepreneur into its capital. On this occasion, Amundi Private Equity, which acquired a stake in the Group in 2016 alongside Bpifrance, is leaving the capital for good, while Bpifrance is continuing the adventure alongside Kardham.
Founded in 1992, the kardham group has gradually diversified from its original vocation as a developer of professional spaces to become a global operator in the design and management of real estate projects through both internal and external growth initiatives. In 2014, it became one of the top 10 architecture firms in france. In 2019, it became the 1st NSE dedicated to the real estate industry with more than 30 employees dedicated to digital. It also stands out from other market players through its shareholding structure: nearly one employee in five is associated with the group's capital.
Kardham, whose internationalisation strategy is reinforced in recent years, assists users and major real estate professionals in france, europe and africa in all aspects of their real estate thinking, from the strategic genesis of projects to their complete delivery. The group thus brings together 400 talents with diverse profiles (consultants, architects, engineers, designers, sociologists, etc.) Who are experts in all areas of the real estate value chain: consulting, architecture & engineering, development, digital.
Embodied by its managing partners (Jean-François Couëc, David Habrias, Frederic Miquel, Roman Coste), the group's ambition is to continue to strengthen its position as an independent leader in its markets by developing its areas of expertise through a controlled and targeted external growth strategy. In 2019, the kardham group achieved a turnover of € 80m.
"We would like to thank Amundi Private Equity for having placed its trust in our strategic choices and for having supported the growth of the Kardham Group over the last four years, which have been marked by a more than two-fold increase in activity. We are now pleased to welcome GENEO Capital Entrepreneur to continue the journey of our growth in a market that is promising in terms of development and consolidation opportunities. Its arrival, alongside the historical support of Bpifrance, provides us with the resources we need to pursue our ambitions in the commercial real estate market ", says Jean-François Couëc, Chairman of the Kardham Group.
François Picarle, Associate Director at GENEO Capital Entrepreneur adds: "on a daily basis, Kardham's teams make real estate a vector for transforming organizations. The Kardham Group has this culture of transformation and entrepreneurial spirit in its DNA, which we greatly admire and cherish at GENEO. We are therefore very pleased, alongside bpifrance, to join forces with the many manager shareholders of KARDHAM, led by Jean-François COUËC, to support them in the deployment of their growth plan. We will fully engage our community of experts and entrepreneurs to support them, particularly in their strategy of innovation, internationalization and promoting the positive impact of the Group's activities. »
Axel Piriou and Vincent Charles, for Bpifrance, declared: "we are delighted to continue the adventure with the kardham group, which has proven its ability to develop through organic and external growth since the joining of bpifrance in 2016. We renew our full confidence in Jean-François Couëc and his teams to pursue his ambitious development strategy both nationally and internationally. Bpifrance is very pleased to welcome the kardham group once again in one of its accelerators: the eti accelerator, an acceleration program to support the growth of etis and become the international champions of tomorrow. »
The Players on the operation:
Investors: Bpifrance Investissement (Axel Piriou, Vincent Charles), Geneo Capital Entrepreneur (François Picarle, Rodolphe Vernazza)
Conceding: Amundi Private Equity (Amar Douhane)
Legal Advice Managers : Bolze et Associes (Eric Bolze, Tiphaine Hue, Alexandre Carteret)
Financial Advisory Officers : G2 Invest (Guillaume Somekh)
Investor Legal Advice: Joffe & Associes (Romain Soiron, Aymeric Degremont, Paddy Pascot)
Financial Due Diligence: Advolis (Damien Bourg, Marion Bernadou)
ABOUT GENEO CAPITAL ENTREPRENEUR
GENEO is an investment and support company that supports SMEs and ETIs in their development capital and transmission projects. It takes minority stakes in the capital of companies with sales of more than €10 million and an operating profit of more than €1 million. The form of investment company (rather than fund) allows to control time and implement long-term strategies. Each invested company benefits from a personalised support programme, drawn up with the management team, which takes the form of a Growth Log.
The GENEO Community of 80 entrepreneurs and families, investors in GENEO, also enables the sharing of experience and business networks. To provide real "entrepreneurial capital" is the GENEO commitment!
***
Contact :
François Picarle : +33 6 17 71 69 07 francois.picarle@geneocapitalentrepreneur.com
Fanny Letier : fanny@geneocapitalentrepreneur.com
More information:
https://geneocapitalentrepreneur.com/
LinkedIn : https://www.linkedin.com/company/geneo-capital-entrepreneur/
Twitter : https://twitter.com/GeneoCapital
About Bpifrance
Bpifrance's equity investments are made by Bpifrance Investissement. Bpifrance finances companies – at each stage of their development – in credit, guarantees and equity. Bpifrance supports them in their innovation projects and internationally. Bpifrance also ensures their export activity through a wide range of products. Consulting, university, networking and acceleration programs for start-ups, SMEs and ETIs are also part of the offer to entrepreneurs. Thanks to bpifrance and its 50 regional offices, entrepreneurs benefit from a close, unique and efficient contact to help them meet their challenges. More information on: www.Bpifrance.fr – follow us on Twitter : @Bpifrance – @Bpifrancepresse
PRESS CONTACT
KARDHAM : Nathalie Neyret, Directeur Marketing & Communication :
+33 6 37 68 50 99 / nneyret@kardham.com
MORENO CONSEIL : Clara Moreno, attachée de presse :
+33 6 12 56 70 07 / clara@morenoconseil.com
Bpifrance : Laure Schlagdenhauffen
+33 1 41 79 85 38 / laure.schlagdenhauffen@bpifrance.fr