Delivery of the new technical facilities at the Henri Mondor Hospital in Aurillac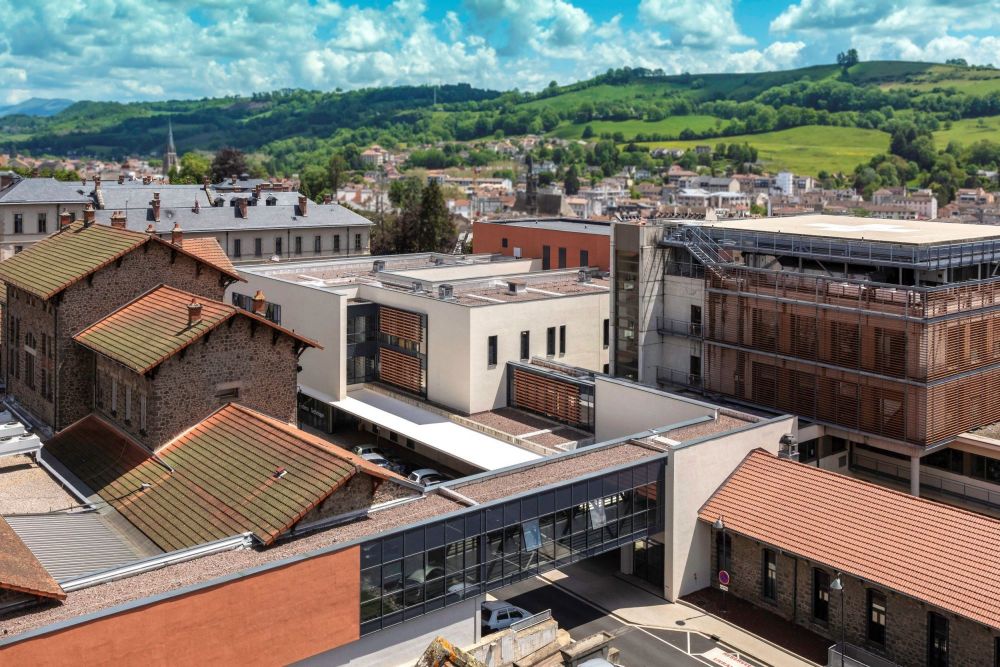 Our Architecture division has just completed work on the new technical facilities of the Henri Mondor Hospital in Aurillac. With a surface area of 5,100 sqm, the building now brings together in coherent units and on a single building all the services that require anesthesia, which until now have been spread out over different pavilions. The project improves both patient care and working conditions for medical staff, while preserving a historic building heritage.
Built on three levels, the new technical facilities bring together all the critical activities that were previously spread over several buildings. It thus concentrates the pediatric emergency activities, the ambulatory surgery service, the gynecological-pediatric consultation service, the anesthesia consultation, six operating theatres, the maternity hospitalization service, pediatrics, neonatology, birth rooms and endoscopy. It offers a fluid user journey by simplifying circulation and limiting travel distances, an additional guarantee of safety for both patients and healthcare professionals.
The architectural challenge was first of all to blend in with the typical and historic pavilion architecture of the hospital center, which is part of the city's image. Thanks to the association of the Architecte des Bâtiments de France with the project, it was possible to preserve it. Another specificity is the topography of the site, and in particular the 50-meter difference in elevation, which led the Kardham Group to create two first floors: a lower one for logistics and an upper one for patient reception, located on the main axis of the hospital center. Finally, the work was carried out on an occupied site, another challenge for the Group's architects.
In the end, the project establishes strong links with the existing building, both functionally and spatially, while creating a unitary and coherent whole. The project is therefore in line with the existing building and constitutes a unique whole, with no break in level.
Project features:
Client: Centre Hospitalier Henry Mondor
Partners : Métafore (architecte associé), Ingérop-Vulcanéo
Scope of work: Complète
Cost: 10,5 M€
Delivery: 2020
BIM Methodology