In Sophia Antipolis, Kardham delivers a responsible and innovative office building program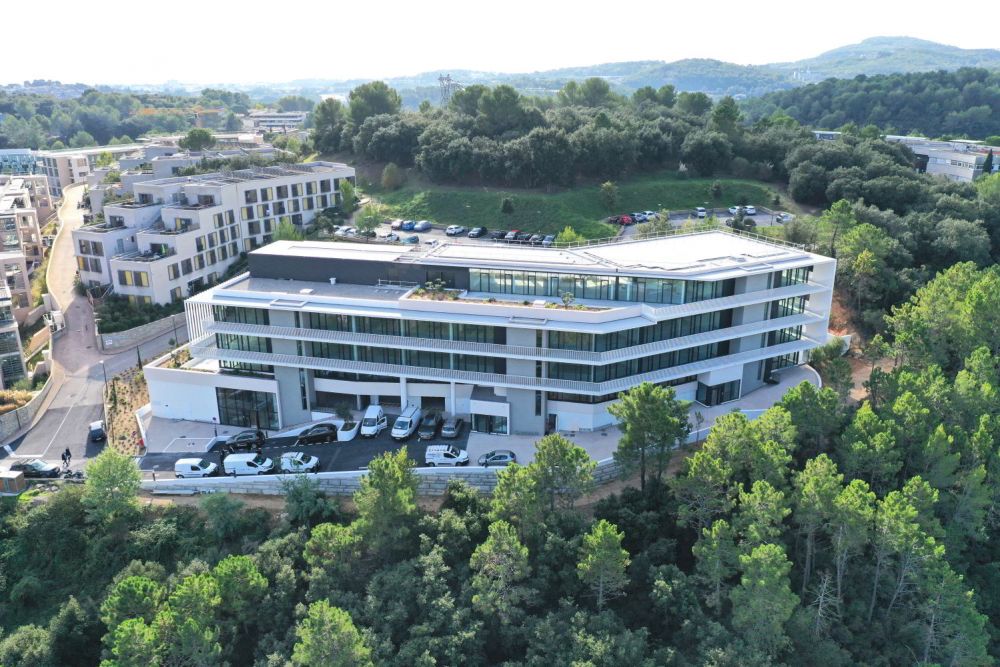 Our Architecture and Engineering divisions have completed an eco-responsible office building program in Biot, in the Sophia Antipolis business park, on behalf of the Valimmo real estate company. The program is geared towards new ways of working and is environmentally friendly.
Named Le Belvédère, the project offers 3,600 square meters of office space spread over four floors and 900 square meters of terraces and exterior office areas, as well as three levels of underground parking. It is in line with the strategy of turning Europe's leading technology park into an attractive space with a new urban character, based on increased density.
A building that blends into its environment
The architectural challenge was to blend into an exceptional natural site, that of the Baous and the Mercantour National Park, by responding to a unique landscape specificity. The plot belongs to the numerous slopes of the Biot hills, associated with large wooded masses, valleys and hillsides and marked by the cuttings in floors and terraces.
The Kardham teams therefore favored a central layout with a building that is close to the shape of the plot and seeks to blend in with the site's contours. Clinging to the slope in cross-section, the base of the building takes the form of a large pedestal as a base. The building also offers an aerial elevation: the vertical development is formed by large superimposed slabs whose external extensions offer large terraces, with variable widths and alignments. The open spaces that form the glazed facades provide a view of the great unoverlooked landscape upstream, open to the valley, the Provençal Golf and the Alps. Finally, a large planter has been placed on the roof to produce a visual continuity effect and to integrate the linear top of the building.
Sustainable construction for offices designed for use
Launched in July 2020 in the midst of the health crisis, the project also meets high expectations in terms of flexibility, eco-responsibility and quality of life at work.
First of all, in order to adapt to the new challenges of hybrid work modes, Le Belvédère integrates more than 300 workstations in divisible spaces starting at 80 sq.m. that can be adapted to the changing needs of users.
In terms of energy performance, it is BEPOS RT 2012 target (positive energy and low consumption building) with a photovoltaic roof structure and a battery energy storage system to reduce its users' electricity consumption. The Belvedere also reflects the "constructive biodiversity" dear to Kardham by mixing, within the same project and according to needs, different materials: wood, concrete, glass, aluminum, etc.
Finally, in terms of user comfort, the project offers green open spaces with plants adapted to the Mediterranean climate with low rainfall, again creating strong links with its environment.
"The Belvedere building is one of the most successful eco-responsible construction projects in our territory and perfectly symbolizes VALIMMO's real estate strategy," confirms François Moison, President of VALIMMO.
Technical informations:
Location : Sophia Antipolis (06)
Project owner: PF1/Valimmo
Partners : Mazzarese Architects, Kardham Ingénierie/TCE
Mission : Complete
Surface area: 3,600 m² and 900 m² of terrace
Price: 5,7 M€
Delivery: 2021
Environmental quality: BEPOS RT 2012 - 100%.
Full Revit methodology