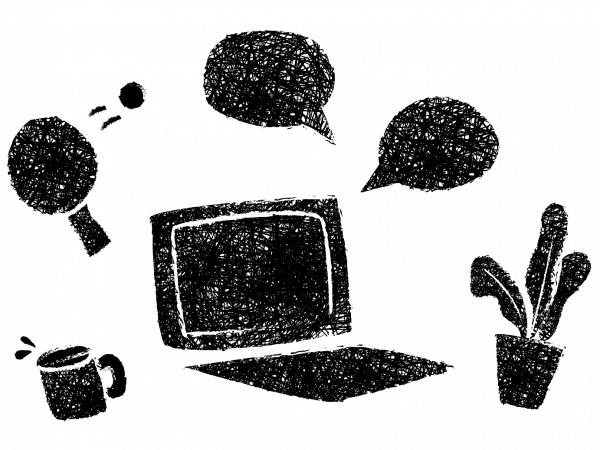 Will the Covid change our planning jobs?
Expert
The question we have been exposed to lately is: "Will there be a post-Covid in terms of work environments and is this a real revolution or a simple adaptation?" ".
The forward-looking demands of our clients commit us to seriously consider this subject which, in addition to a challenge for all of our businesses, represents a new business opportunity.
The idea of ​​more meaningful teleworking is gaining ground. There are many lines of thought, sometimes contradictory, on the merits of this alternative. How can these two working methods coexist without harming performance? Do we need more flex office and less real estate? How to animate the collective from a distance? How to properly coach and track results? How to preserve the notion of the team itself and its territory?
If home office would become the norm
Saving time, changing mentalities, choosing many employees, a major point of attractiveness and employability ... Many people are thinking about making this practice sustainable.
Until then, home office had been the subject of a fantasy for some or a real managerial nightmare for others. And its practice remained very marginalized in France.
Since mid-March, the overwhelming majority of companies that have continued an activity had to urgently convert to remote work for all or part of its teams. As a result, 25% of French people worked remotely during confinement according to the Ministry of Labor, against barely 7% in 2017.
A boom that seems to be acclaimed by more than 3/4 of employees surveyed at the end of March by Odoxa-Adviso for Challenges, France Info and France Bleu. In the longer term, 74% of HR Directors questioned at the end of April by the National Association of HR Directors (ANDRH) anticipate its generalized development.
Would the office then become the place of the collective?
It would seem that we must find the right balance between activities related to individual tasks requiring high concentration, scheduled and noisy exchanges and other remote activities and more collective work, informal exchanges, activities calling for creativity and emulation.
Once again, we will have to adapt our responses to uses, professions and corporate cultures. But also and above all to the functional and operational needs of employees. Because even if it has advantages for the employee and the employer, teleworking is also a source of professional ills: inadequate equipment and office ergonomics, porosity between professional and private life, accumulation of anxiety and impoverishment. of the collective.
Human management by humans and between humans
It is therefore difficult to envisage a generalized switch to 100% teleworking.
Telephone and videoconferencing are not enough to satisfy the need for human contact. Misunderstandings, degraded relationships, bad decisions are common when the screen interferes with human relationships. In fact, according to a Harvard Business Review study, 84% of teleworkers agree that a problem takes longer to resolve. To confuse man too much with a communication channel like any other, the company is gradually emptying out of his life and his intelligence.
As for the proper functioning of remote management, there are many challenges!
Neither all black nor all white therefore. This is why we have developed a contextual offer to work with our clients in defining their future work experience. We support them in their HR reflections (teleworking, management, etc.), spatial (management of space occupation, new types of spaces, etc.) but also in their digital worlds (software tools and terminals; individual or collective).
Sources :
Challenges 18 mai 2020. Le télétravail va-t-il devenir la nouvelle norme d'organisation dans les entreprises.
Sondage Odoxa-Adviso « Le Covid-19 bouleversera durablement le rapport au travail des Français ».
Enquête ANDRH « Déconfinement & après ? Les DRH s'y préparent ».
Forbes « Le Télétravail réduit l'Homme à un canal de communication ».
Etude Harvard Business Review « A study of 1 100 employees found ».
Release date : Lundi 27 Juillet 2020